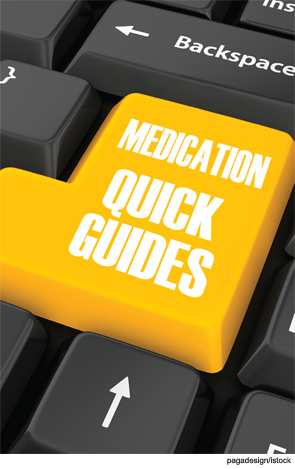 Infusion personnel now have a new resource for medication administration. With recent advances in medication for the treatment of rheumatic diseases, osteoporosis, and gout, management of different administration protocols is more complicated. To ensure proper administration and patient safety, quick-reference information can be a useful tool for infusion personnel.
The ARHP addressed this need by developing online Medication Quick Guides for access by members via the ACR/ARHP website. The Quick Guides have been completed for many medications, including biologic disease-modifying antirheumatic drugs, antiresorptive medications, and other medications administered in intravenous and injectable dosage forms.
Infusion staff already familiar with the medications can be aided by the streamlined information provided by the Quick Guides. Each Guide is labeled with the last date of review and includes a link to the manufacturers' web material for the most recent in-depth reference. Within each Guide, specific information can be easily accessed and is organized into the following areas: indications, special considerations, dosage and administration, preinfusion checklists, vital sign monitoring, review of orders, drug preparation, standard infusion checklist, and management of infusion reactions. The Quick Guides can be printed, which allows for convenient review when computer access is unavailable.
In addition to streamlined information, the Quick Guides also provide a link to the manufacturers' full prescribing information, patient medication guide, and applicable dosing calculators. In the future, a patient financial resource link for the medications will also be provided. This will allow infusion personnel ready access to information regarding financial assistance resources for their patients.
Information for the Quick Guides was obtained from the manufacturer's full prescribing information and the ACR Model Biologics Policy. This policy is available to members on the ACR website. The Model Biologics Policy includes information on a medication's FDA indications, dosage information, biologic molecule description, and off-label use with references.
The Quick Guides provide an ACR/ARHP members-only benefit of free access to streamlined information regarding the administration of biologic, antiresorptive, and other medications used to treat patients with rheumatic disease. Additional Medication Quick Guides are being developed by the ARHP Practice Committee. To access the Medication Quick Guides, go to www.rheumatology.org/practice and click on Drug Safety.
Inquiries or suggestions regarding development of new tools or references relative to rheumatology practice for the ARHP Practice Committee consideration may be forwarded to [email protected].
---
Susan Richmond is assistant professor in the School of Physician Assistant Studies at the Massachusetts College of Pharmacy and Health Sciences in Boston. Karla Jones is a pediatric nurse practitioner at Children's Hospital in Columbus, Ohio.