At its February meeting, the ACR board of directors approved the Model Biologics Policy, which will be used when discussing guidelines and patients' quality of treatment with health insurance companies.
You Might Also Like
Explore This Issue
July 2010
Also By This Author
The Committee on Rheumatologic Care was tasked to create a document that would reflect the medical necessity of using biologic drug treatment and therapy for patients with RA and other musculoskeletal diseases.
ADVERTISEMENT
SCROLL TO CONTINUE
This policy addresses the tumor necrosis factors and biologic response modifiers class of drugs, such as (but not limited to) infliximab, etanercept, anakinra, and adalimumab, which are designed to neutralize inflammatory cytokines. The policy also includes:
Indications and limitations of coverage for medical necessity;
Appropriate ICD-9, CPT, and HCPCS drug codes;
An outline of medical necessity and Food and Drug Administration–approved indications for each drug;
Indications for off-label drug use;
Dosage and administration information; and
Biologic molecule descriptions for each drug.
2010 PQRI Reporting Options for Mid-Year Start: It is not too late to start participating in the 2010 Physician Quality Reporting Initiative (PQRI) and potentially qualify to receive incentive payments. A new six-month reporting period began on July 1. If you have not yet participated in the PQRI program, you can begin by reporting PQRI data for July 1 through December 31 using any of the following options:
ADVERTISEMENT
SCROLL TO CONTINUE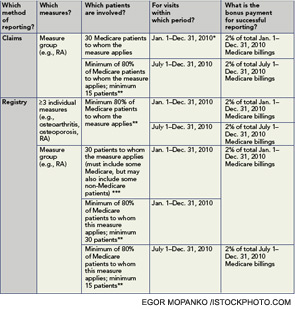 click for large version
*This option is still available for mid-year start because successful claims reporting of 30 patients from any time during the year will qualify a practitioner for the 2% bonus on the full year of Medicare billings.
**NOTE: For reporting options that include a minimum of 80% requirement, this means that providers must report successfully for at least 80% of their patients to whom the measure applies in the given period. Providers who choose to report on only 80% of their patient population for a certain measure must, therefore, report with complete accuracy. Because this would allow no room for error without losing the entire incentive payment, CMS recommends that providers report on more than 80% of their patient population for each measure, whenever possible, even up to 100%.
ADVERTISEMENT
SCROLL TO CONTINUE
***May include some non-Medicare patients, but the 30 patients must not be exclusively non-Medicare patients
If you have any questions about PQRI reporting, contact Melesia Tillman, CPC, at (404) 633-3777, ext. 820, or [email protected].
Biologic drug use has grown drastically over the past years. With the advent of these newer, highly effective medications, healthcare providers have seen a growing sense of improvement and empowerment in patients. Rheumatologists now have several years of experience with biological response–modifying agents. Each of these therapies has different indications, and data show that those who have not responded to one treatment may respond to another. The choice of an individual agent is complex and is undertaken with many variables in mind, including the diagnosis, the proximity of the patient to the physician's office, the patient's preference for mode of administration, the patient's physical mobility, and the physician's preference and experience.