In October 2009, the Lupus Research Institute (LRI) convened a meeting of experts in New York to discuss critical issues in the design of clinical trials for new agents to treat systemic lupus erythematosus (SLE) and maximize the likelihood of successful outcomes. Attendees included representatives from academia and clinical practice as well as pharmaceutical and biotech companies developing products for immune-mediated diseases.
Founded by families and guided by leading scientists, the Lupus Research Institute (LRI) is the world's leading private supporter of lupus research. With its National Coalition of state and local lupus organizations, the LRI is dedicated to finding new and safer options for treating the disease by improving the design of clinical studies and promoting broad participation in clinical trials.
ADVERTISEMENT
SCROLL TO CONTINUE
Through presentations and discussions, the meeting addressed a number of fundamental issues affecting trial design, including a drive to establish standard methodology for lupus clinical trials, the need for flexibility in trial design for such a heterogeneous disease, regulatory requirements for approval of new agents, and an interest in addressing the effects of any new product in the various clinical settings that may be encountered in practice. The need to adopt a standard set of outcome measures was a related concern, in the view of the different characteristics of the current instruments used to assess responses. While these measures have been assessed in clinical practice and research studies, their performance in clinical trials remains largely untested.
While falling short of reaching consensus on these matters, participants generated valuable discussion and insights on current practices and suggested potential directions in research into the design of clinical trials in lupus, which should prove useful for future clinical studies. Here are some highlights from the discussion.
ADVERTISEMENT
SCROLL TO CONTINUE
Key Challenges
The heterogeneity of lupus poses a significant challenge for clinical trial design. Success in achieving statistical significance for new therapies in lupus trials needs to account for the marked heterogeneity of disease manifestations and severity of patient populations that, in some cases, may involve stratification with respect to:
Ethnicity. In seeking trial designs likely to yield statistically significant results, researchers may need to consider ethnicity more carefully as a factor that can affect outcomes.
Disease activity levels. Lupus can manifest with different levels and patterns of disease activity levels, such as relapsing and remitting versus persistently active disease, flare, or more active versus less active disease. Attendees addressed the question of whether there is any scientific, medical, or business rationale to focus trial design on flare prevention versus decreasing persistent disease activity of a patient on standard therapy.
Trial size. The larger the trial, the more likely that a therapeutic effect in a particular ethnic group will be lost in analyses of the whole population. The recent successful BLISS-52 was a large trial, with 90% power to detect differences between different treatments. Could a smaller trial have achieved similar success? With the current outcome measures and disease heterogeneity, are large trials necessary to achieve statistically significant results? Will the need for large trials hamper clinical development?
Other issues that pose challenges for achieving statistical significance in clinical trial design include duration of disease prior to treatment, specific organ systems involved, and current and past treatments for a disease with nonapproved standard of care treatments and comorbidities.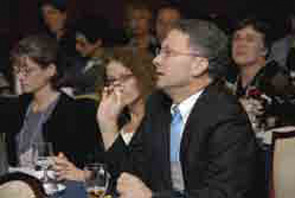 Attendees discuss lupus clinical trial design at the October 2009 Lupus Research Institute meeting.
Design Flexibility
Clinical trials need an acceptable outcome measure—a reasonable surrogate for an important clinical outcome—for a drug to obtain U.S. Food and Drug Administration (FDA) approval. Design flexibility, including the use of adaptive design, is considered a crucial factor in achieving successful outcomes.