Despite the grim storyline, Dr. Cook is very upbeat about the future of iDoc devices in caring for patients. Together with medical futurist Eric Topol, MD, director of the Scripps Translational Science Institute in La Jolla, Calif., he co-authored a recent opinion piece in The Wall Street Journal about the coming revolution in digital medicine that blurs the lines between fact and science fiction. As they see it, "a sweeping transformation of medicine has begun that will rival in importance the introduction of anesthesia or the discovery of the germ basis of infectious disease. It will change how patients and physicians interact. It will change medical research and therapy."6
You Might Also Like
Explore This Issue
April 2014
Also By This Author
ADVERTISEMENT
SCROLL TO CONTINUE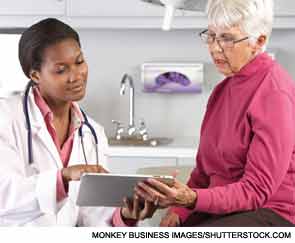 Further, the authors maintain that the digitalization of medicine will not only personalize healthcare, making it possible to customize therapies based on one's genome, it will democratize medicine, since patients will own their own data and be able to analyze it instantly by connecting to the Web. Their central premise is that your smartphone, loaded with a heuristic medical algorithm, is poised to become an avatar physician, a not-so-evil iDoc. For example, they predict that by sensing certain genomic signals circulating in your bloodstream, it will be able to warn you in advance about an impending heart attack and send you to the hospital. The iDoc will detect infections and refer you to your local pharmacy for the appropriate antibiotic, which it will prescribe.
Of course, being futurists, Drs. Cook and Topol conclude that all this technology will drive down costs and streamline healthcare. Are they kidding?
ADVERTISEMENT
SCROLL TO CONTINUE
Let's start with their concept of a "heuristic medical algorithm." Computer-based algorithms may work for diagnosing some conditions that have well-established clinical and laboratory criteria, such as myocardial infarction or hyperthyroidism. As rheumatologists, we regularly witness how inept algorithms and Web searches can be for the diseases that we treat. How might they work for, say, lupus? Who has not met the anxious patient, convinced that they have this disease based on a Google search that suggested this diagnosis? Enter the "data": a low titer-positive antinuclear antibody test, some self-described hair thinning, occasional mouth sores, fatigue, cool fingertips and a faint rash somewhere. Who needs to see a rheumatologist? Or would the detection of the HLA-B27 antigen by iDoc alert the patient that they are at risk for developing an inflammatory disease, when, in reality, the majority of this gene's carriers are healthy? Yes, I realize that iDoc would be constantly updated with all the relevant genomic data. But is this data important in clinical practice? Would it matter to you if you knew that your patient with rheumatoid arthritis carried the PTPN-22 allele or the shared haplotype?