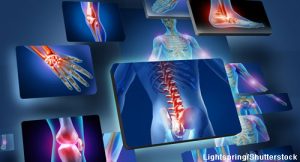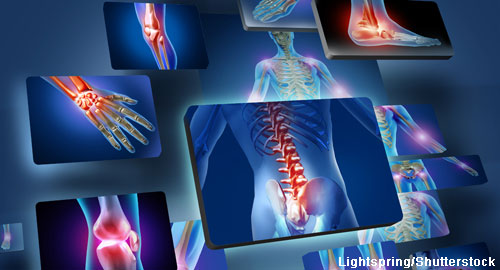 Our understanding of myositis phenotypes has greatly improved since the landmark publication of the Bohan and Peter criteria in 1975.1,2 However, treatments for various types of myositis have not advanced at the same rate. At the 2021 ACR State-of-the-Art Clinical Symposium, Hector Chenoy, PhD, FRCP, BMBS, MSc, BMedSci, professor of rheumatology and neuromuscular disease, Division of Musculoskeletal & Dermatological Sciences, University of Manchester, U.K., described the clinical trials on myositis conducted in recent years.
Explore This Issue
June 2021
Also By This Author
Dr. Chenoy began his presentation by noting that glucocorticoids remain the first-line treatment for idiopathic inflammatory myopathies, with intravenous pulse dose therapy recommended for life-threatening complications, such as myocarditis and rapidly progressive interstitial lung disease (ILD). Yet many patients suffer from refractory disease and comorbidities despite treatment with glucocorticoids or potent immunosuppressive medications. Thus, researchers have explored whether existing medications used to treat other rheumatic conditions may hold promise for patients with myositis.
ADVERTISEMENT
SCROLL TO CONTINUE
Jakinibs
Janus kinase inhibitors (jakinibs) have traditionally been used to treat rheumatoid arthritis. Ladislau et al. noted that patients with dermatomyositis demonstrate an upregulation of type I interferon-inducible genes in muscle, endothelial tissue, skin and peripheral blood cells. In their proof-of-concept study, the researchers demonstrated several pathogenic effects of type I interferon, such as interruption of myotube formation in differentiating myoblasts. Ruxolitinib, which inhibits JAK1 and JAK2, was shown to stop these pathogenic effects in vitro. The four patients treated with ruxolitinib in the study experienced improvement in skin lesions, muscle weakness, serum type I interferon levels and interferon-inducible gene levels.3
With this in mind, Paik et al. conducted an open-label pilot study of tofacitinib, which inhibits JAK1/JAK2, JAK1/JAK3 and JAK2/JAK2, in patients with refractory myositis. The researchers administered tofacitinib in extended-release doses of 11 mg daily to 10 patients with dermatomyositis who had completed a washout of all steroid-sparing agents prior to initiating tofacitinib treatment.
ADVERTISEMENT
SCROLL TO CONTINUE
The primary outcome measure was improvement in disease activity based on the International Myositis Assessment and Clinical Studies (IMACS) group definition of improvement.4 The IMACS score uses several core set measures, including physician global activity score, patient global activity score, manual muscle strength, physical function as measured by health assessment questionnaire, laboratory assessment of muscle enzymes and related laboratory parameters, global disease activity, physician global damage score, patient global damage score and health-related quality of life measures. The definition of improvement corresponded to improvement in three of any six core measures by >20%, with no more than two core set measures worsening by >25% (not including manual muscle testing). This outcome was achieved by all 10 patients.