Autoantibodies: A positive antinuclear antibody titer is present in 60% to 80% of IIM patients; rheumatoid factor is positive in 8%.13 See Table 3 (p. 22) for a list of autoantibodies and associated features. These autoantibodies each are generally associated with a characteristic IIM phenotype. As is the case with all autoantibodies, positive and negative results must be interpreted in light of the clinical context, but a positive result can be useful prognostically as well as for guiding further evaluation and treatment.
EMG: As noted above, a myopathic EMG has a characteristic triad of features. New-onset disease can also result in an added feature of early recruitment. Although the EMG will not point to the specific etiologic entity (disease or toxin), it is helpful in ruling out neuropathic processes.
ADVERTISEMENT
SCROLL TO CONTINUE
MRI: MRI has become an important diagnostic modality in IIM and serially may be useful in evaluating response to treatment in individual patients. Short tau inversion recovery images can demonstrate areas of edema which can be interpreted as active myositis (see Figure 1, p. 18). Although MRI should not substitute for muscle biopsy, it can guide muscle biopsy sampling by identifying sites of active disease. T1 MRI imaging is used to evaluate muscle atrophy and fatty replacement and thus serves as a measure of chronic muscle damage.
Muscle biopsy: Muscle biopsy is the essential and definitive diagnostic modality for IIM. Only very rarely should therapy proceed without a biopsy (one case is when a characteristic DM rash is present in a patient with a typical pattern of weakness but biopsy is unavailable). If immediate therapy is clinically deemed wise, a brief delay before biopsy will not significantly reduce the diagnostic usefulness because most biopsy signs recede slowly.
ADVERTISEMENT
SCROLL TO CONTINUE
The pathogenesis of IIM appears to be reflected in the histochemical characteristics of each subset. DM is thought to result from humorally mediated vascular injury (see Figure 4A, p. 22). Perifascicular and perivascular inflammation and atrophy are most characteristic of DM, and vessel thrombosis, fiber necrosis, and regeneration can also be seen. In contrast, PM and IBM are thought to involve cytotoxic T cells in their pathogenesis. In PM, CD8-positive lymphocytes surround and invade muscle fibers expressing Major Histocompatibility (MHC) class I antigens (see Figure 4B, p. 22). IBM is likely to be present if the biopsy shows rimmed vacuoles containing basophilic granules and amyloid deposits in addition to inflammation (see Figure 4C, p. 22).
Treatment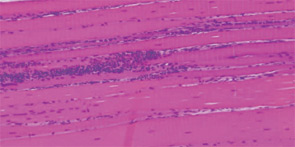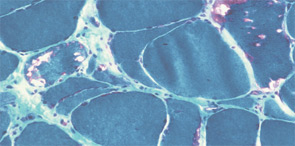 FIGURE 4: Hematoxlyn and eosin (H&E) and Gomori trichrome stains of muscle: A) H&E stain demonstrating perivascular and perifascicular inflammation characteristic of DM; B) H&E stain demonstrating foci of endomysial infiltrates by mononuclear cells characteristic of PM; and C) Gomori trichrome stain demonstrating red-rimmed vacuoles characteristic of IBM.
An integral component of IIM treatment is rehabilitation medicine. Patients should be referred for evaluation and treatment by a physiatrist or physical therapist upon diagnosis. (See "Rehabilitation and Myositis," p. 1, for more on physical therapy for myositis.) Active disease does not preclude patient-specific graded physical and occupational therapy that is combined with appropriate pharmacologic treatment.