Next Steps
A wide spectrum of clinical mani­festations is seen in idiopathic inflammatory myositis, but the underlying pathogenesis is still murky. Dr. Fiorentino says one of the next steps in myositis research is understanding the biology of these antigens.
"We need to understand where these antigens are and in which types of cells. Antigen structure is going to play a large role in understanding how the immune response is being generated in the tissue," he says. "We don't understand why these antibodies are generated against proteins which are ubiquitously expressed in all of our tissues."
ADVERTISEMENT
SCROLL TO CONTINUE
Dr. Christopher-Stine anticipates a role for precision medicine in the future of the field: "Precision medicine is most exciting on two fronts: fine-tuning which patients will develop which compli­cations and designing better treatment algorithms." She explains how further genomic studies may allow for a more personalized selection of immuno­suppressant therapy. Additionally, she believes we can improve the criteria for inflammatory myopathies. The 2017 ACR/EULAR Criteria for Idiopathic Inflammatory Myopathies include only one myositis-specific antibody, anti-Jo1.
"I think we can go a step further, since autoantibodies drive the phenotypes so strongly, yet they were not included," says Dr. Christopher-Stine.
ADVERTISEMENT
SCROLL TO CONTINUE
An appreciation for the cutaneous and other clinical manifestations associated with myositis-specific antibodies has implications for diagnosis and management, particularly with rarer subtypes of idiopathic inflammatory myopathies. When evaluating a patient with suspected inflammatory myopathy, cutaneous ulcerations or palmar papules should raise concern for possible MDA5-associated dermatomyositis, and an ovoid palatal lesion should raise suspicion for possible TIF1-γ-associated myositis. The presence of certain myositis-specific antibodies requires additional management considerations, including cancer screening in TIF1-γ patients given the strong association with malignancy in those patients. By further identifying and studying these novel phenotypes associated with myositis antibodies in IIM, we can substratify patients and better understand the underlying disease pathogenesis and potential therapeutic targets.
---
Mithu Maheswaranathan, MD, is a rheumatology fellow at Duke University Medical Center, Durham, N.C.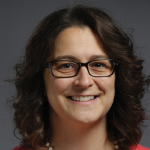 Lisa Criscione-Schreiber, MD, MEd, is associate professor of medicine at Duke University School of Medicine, Durham, N.C.
ADVERTISEMENT
SCROLL TO CONTINUE