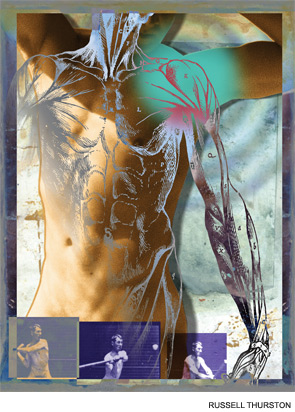 ATLANTA—Rheumatologists and health professionals reviewed the latest information on diagnosing and treating inflammatory myopathies during the ACR Clinical Symposium, "Inflammatory Myopathy Update," here at the 2010 ACR/ARHP Annual Scientific Meeting. [Editor's Note: This session was recorded and is available via ACR SessionSelect at www.rheumatology.org.] The session's three presentations focused on modalities to diagnose inflammatory myopathy, the role of autoantibodies in myositis, and exercise intervention.
Diagnosing Inflammatory Myopathy
John A. Carrino, MD, MPH, associate professor of radiology and orthopaedic surgery and section chief of musculoskeletal radiology at Johns Hopkins University in Baltimore, started the session by reviewing some of the clinical features that usually point to myositis, including Gottron's papules, the body symmetry of the disorder, proximal limb and truncal weakness, Raynaud's disease, arthritis, and lung disease. He also pointed out clinical features that typically lead away from a myositis diagnosis, such as family history, weakness related to exercise and eating, cranial nerve involvement, muscle cramping, and early atrophy or hypertrophy.
While polymyositis, dermatomyositis, and inclusion body myositis are most commonly considered with inflammatory myopathy, he noted that there are a host of other emerging myopathies, such as necrotizing myopathy, giant cell myositis, eosinophilic myositis, granulomatous myositis, and others.