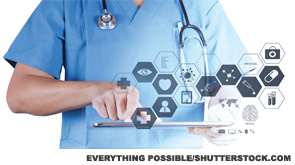 In early September 2014, the Centers for Medicare & Medicaid Services (CMS) released Transmittal 1422, CR8863 detailing new modifiers to be used in place of modifier -59, which will go into effect Jan. 1, 2015.1 In its place, CMS established four new HCPCS modifiers to further define subsets of the -59 modifier, which is used to define a "Distinct Procedural Service." CMS believes this code change will work succinctly with the National Correct Coding Initiative (NCCI) edits that are used to bundle service codes together. The modifier -59 has been a go-to modifier and is widely used by providers to indicate a second procedure code that is actually distinctly different or separate from the first procedure code. The utilization of the modifier can be broadly applied, and it seems CMS's goal is to streamline the use of modifier -59 and minimize manual audits of claims.
You Might Also Like
Explore This Issue
December 2014
Also By This Author
The new modifiers, referred to as -X modifiers, define specific subsets of modifier -59. CMS has indicated that it won't stop recognizing modifier -59, but also reminds healthcare providers that the American Medical Association's Current Procedural Terminology (CPT) instructs that modifier -59 should not be used when a more descriptive modifier is available. The Medicare Learning Network article states that modifier -59 will be recognized in some cases, but CMS may selectively require a more specific -X modifier for billing certain codes that may reflect incorrect billing. For example, a particular NCCI code pair may be identified as payable only with the -XS separate encounter modifier, but not the -59 or other -X modifiers. The -X modifiers are more selective versions of modifier -59, so it would be incorrect to include both modifiers on the same line.
ADVERTISEMENT
SCROLL TO CONTINUE
The new HCPCS modifiers, referred to collectively as -X modifiers, are defined as:
XE Separate Encounter, a Service That Is Distinct Because It Occurred During a Separate Encounter;
XS Separate Structure, a Service That Is Distinct Because It Was Performed on a Separate Organ/Structure;
XP Separate Practitioner, a Service That Is Distinct Because It Was Performed By a Different Practitioner; and
How Does This Affect Rheumatology?
In rheumatology practices, modifier -59 is used with injection codes and infusion procedures when necessary to identify that a procedure or service was distinct or independent from other services performed on the same day. This is commonly applicable for CPT code 20610, which is used for injection or aspiration of the major joints (e.g., shoulder, hip, knee, subacromial bursa). It is necessary to use modifier -59 to indicate that the procedure was performed in a different anatomical site. Additionally, in the case of an adverse reaction to an infusion, modifier -59 is required to unbundle the procedures.