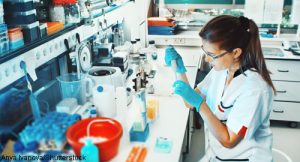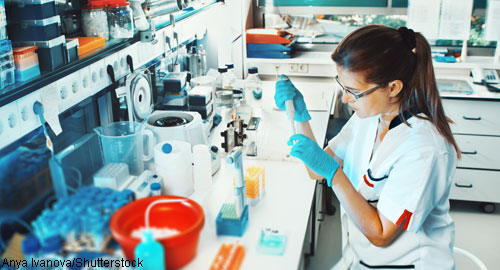 ATLANTA—Macrophage activation syndrome (MAS), a subset of hemophagocytic lymphohistiocytosis (HLH) disease, can be a fatal result of rheumatic disease. But there's good news: New therapeutic options for refractory MAS targeting individual cytokines are emerging.
At the 2019 ACR/ARP Annual Meeting, possible therapeutic options were presented during a pediatric-focused clinical and translational research track, Therapeutic Approaches to Macrophage Activation Syndrome.
MAS is the rheumatic disease-associated member of a group of hyper-inflammatory syndromes characterized by uncontrolled cytokine storms. One potential therapy: interleukin 1 (IL–1) blockade. Roughly 15 years ago—"back before both our heads were gray," said presenter Randy Q. Cron, MD, professor of pediatrics and medicine and director of the division of pediatric rheumatology at the University of Alabama, Birmingham—he and his then-fellow, Edward M. Behrens, MD, were presented with a 14-year-old female patient who was seriously ill. Dr. Cron said the young patient had daily fevers to 104º, total body panniculitis and lipoatrophy. She suffered multi-organ system failure, including her heart, lungs, kidney, liver and pancreas. She had coagulopathy. And her central nervous system was affected as well.
"She was probably the sickest kid I've ever seen come out of the ICU," said Dr. Cron. "Her body was so ravaged she looked like she was only 7 years old. She met all the criteria for HLH in spades."
At the time, IL-1 blockade was starting to be used to treat systemic juvenile idiopathic arthritis (SJIA). Also around the same time, a study by researchers from the Baylor Institute for Immunology Research reported that complete remission was obtained in seven out of nine SJIA patients.1 "We conclude IL-1 is a major mediator of the inflammatory cascade that underlies SJIA, and that this cytokine represents a target for therapy in this disease," the researchers wrote.
"I didn't think our 14-year-old patient was going to make it," said Dr. Cron. "And so I spoke to the family and said, 'Let's try this treatment.' Within two days she woke up. Within six days, she was out of intensive care, and within two weeks, she went home. It was nothing short of miraculous. This paper was a game changer for a lot of us treating kids with SJIA."2,3
IL-1 Imbalance in MAS
Anakinra, a biologic used to treat rheumatoid arthritis, is a recombinant and modified version of the IL-1ß receptor antagonist protein. "Anakinra is a good place to start in many of these patients," said Dr. Cron. "It has a large therapeutic window. It's very fast acting, and it's very safe, with over 7,000 patient-year data on it."
In addition to treating patients with MAS and systemic juvenile idiopathic arthritis, anakinra is sometimes used to treat Kawasaki disease, adult-onset Still's disease (AOSD), gout and calcium pyrophosphate dihydrate crystal deposition disease (CPPD, formerly called pseudogout). It is also prescribed for Behçet's disease, ankylosing spondylitis, uveitis, lupus and other autoinflammatory syndromes, and certain infectious diseases.
Dr. Cron's former fellow, Dr. Behrens, now fills the Joseph Lee Hollander chair in pediatric rheumatology and is chief of the rheumatology divisions at Children's Hospital of Philadelphia and the Perelman School of Medicine at the University of Pennsylvania. He spoke about IL-18 and IL-33 as therapeutic targets in familial hemophagocytic lymphohistiocytosis and MAS.
Dr. Behrens said what IL-18 and IL-33 share is an ability to drive interferon γ (IFNγ) from CD4 and CD8 lymphocytes in different contexts. Patients with HLH have an increased IFNγ transcriptional signature in their peripheral blood mononuclear cells, "so it makes sense to talk about them together because they're upstream drivers of IFNγ," he said.
A study co-authored by Dr. Behrens in 2015 found that "Hypercytokinemia is the driving cause of pathology and morbidity/mortality in hyper-inflammatory syndromes. Therefore, approaches to block cytokine function may be fruitful in treating hyper-inflammatory syndromes with less toxicity than current therapies. … This study demonstrates IFNγ is dispensable for hyper-inflammatory disease and implicates other inflammatory mediators as culprits of cytokine storm-related immunopathology."4
"It's clear IFNγ is a central cytokine in primary HLH," said Dr. Behrens.
Dr. Behrens said he believes the data is clear that interferon blockade works, but the data are also clear that there's still room for improvement. "I think drug development is still a laudable goal, and I think … upstream IL-1 family members IL-18 and IL-33 are important drugable targets, both in the IFNγ-dependent setting as well as IFNγ-independent settings. … In cases where other effector cytokines beyond IFNγ are in play, blocking these upstream mediators may be relevant."
IL-6 & IFNγ Blockade
Fabrizio De Benedetti, MD, PhD, head of the rheumatology division at Ospedale Pediatrico Bambino Gesù, Rome, spoke about IL-6 and IFNγ blockade for HLH and MAS. He has been conducting research on MAS-related topics for more than 20 years. In one study he co-authored in 2015, researchers reported that IL-6 was a major contributor to the pathogenesis of SJIA, and has been shown to induce defective expression of perforin and decreased NK cell cytotoxic activity.5
"The development of cytolytic dysfunction in SJIA and MAS might also be influenced by a genetic component," the researchers wrote, while also citing an earlier study that found hypomorphic mutations in primary HLH-associated genes in one-third of patients with SJIA and MAS.6
In a more recent study, the researchers generated a MAS model using IL-6 transgenic mice. They said this approach mimicked symptoms experienced by SJIA patients. Specifically, an infection leads to MAS, which is characterized by high levels of IL-6.7
"When we looked at the stimulatory effect of IL-6," said Dr. De Benedetti, "We found that in vitro, prolonged exposure of human macrophages to IL-6 leads to increased production of cytokines and chemokines, including tumor necrosis factor-α [TNF-α] and C-X-C motif ligand 8 [CXCL-8], both at a basal level and upon stimulation with TLR ligands, suggesting a role for IL-6 in amplifying the inflammatory response."
In a 2018 study that also used transgenic mice, researchers found an upregulation of the IFNγ pathway indicated by an increase in mRNA levels of IFNγ, higher levels of phospho-signal transducer and activation of transcription 1 in the liver and spleen, among other observations. The researchers reported that mice who received an anti-IFNγ antibody showed a significant improvement in survival and body weight, as well as a marked amelioration of ferritin, fibrinogen and alanine aminotransferase levels.
"These results show potentially that there's a pathogenic role for IFNγ in addressing MAS," said Dr. De Benedetti.8
---
Mike Fillon is a healthcare writer living in the Atlanta area.
References