Practicing clinicians and basic and clinical investigators alike will benefit from the expanded offerings and the return of ever-popular sessions and features at this year's ACR/ARHP Annual Scientific Meeting, to be held in Philadelphia October 16–21.
You Might Also Like
Explore This Issue
May 2009
Also By This Author
The most popular sessions from previous years, including "The Year In Review," "The Great Debate," "Curbside Consults—Ask the Professors," the series of "Immunology Updates for Clinicians," and an entire spectrum of Clinical and Translational Science Symposia, Medical Aspects of Disease, and State-of-the Art lectures will be offered again this year.
ADVERTISEMENT
SCROLL TO CONTINUE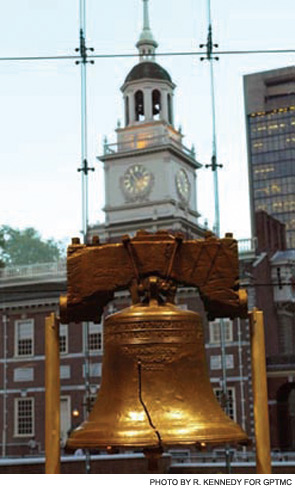 Liberty Bell Center
Major additions to the program this year include a new series of sessions aimed at clinical challenges in daily practice. These presentations, which compose an entire new Clinical Practice track, will focus on the clinical care of difficult rheumatologic issues. In addition, the "Thieves' Market," a presentation of interesting and unique cases, is being introduced this year as a forum for practicing rheumatologists to share their best cases with their colleagues. This session will consist of five to six cases solicited from ACR practicing members.
Other highlights of this year's meeting include:
ADVERTISEMENT
SCROLL TO CONTINUE
New session types: The REF will debut two new lectures: the REF Memorial Lecture, created to honor deceased physicians who made significant contributions to the field of rheumatology, and the REF Within Our Reach Lecture, created to promote the REF Within Our Reach campaign and highlight the work of these grant recipients.
Expanded poster tours: Back by popular demand, the guided poster tour will return with expanded offerings. Thirty-six tours (12 each day) will be offered during this year's meeting.
Plenary program: The plenary sessions have been redesigned to improve general interest and to ensure that the very best new science is presented. Each of the three plenaries will have a separate focus:
ADVERTISEMENT
SCROLL TO CONTINUE
First plenary: Translational research results;
Second plenary: Highest-ranked abstracts describing basic science advances; and
Third plenary: Highest-ranked abstracts describing clinical advances.
Opening lecture: In celebration of the ACR's 75th anniversary, the opening lecture will focus on the history of rheumatology. Bonnie Dorwart, MD, will discuss arthritis and medicine in 19th century America; Ralph Schumacher, MD, will review the development of rheumatologic knowledge through the 20th century; and Charles Christian, MD, will present the first 75 years of the ACR.
The ACR Annual Meeting Planning Committee and the ARHP Program Committee have worked to develop a program that will be of great interest to all attendees. For more information on the 2009 meeting, visit www.rheumatology.org/annual.