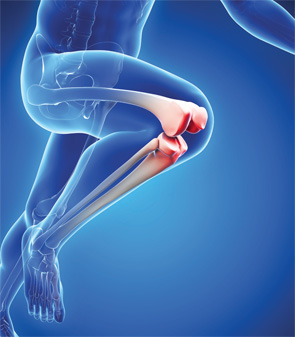 Image Credit: Sebastian Kaulitzki/shutterstock.com
"Doctor, I saw a commercial on TV for a new drug to treat arthritis," is a statement I've heard time and again from my patients suffering with osteoarthritis (OA).
My response is universally the same, "Oooh, that's not for you; that's for patients with rheumatoid arthritis." This then turns into a conversation about the differences between degenerative and autoimmune joint disease. My concluding remark is usually the same, "We don't have anything new for your arthritis now, but we're working on it"
Despite the fact that OA is one of the most prevalent diseases among middle-age and older adults, there are few treatment options for OA patients. We all know the therapeutic progression for knee OA, for example: weight loss and exercise, acetaminophen, nonsteroidal antiinflammatory drugs (NSAIDs), corticosteroid injections and some physical therapy, now and again. Go back a few decades, and the options were the same.
As we look ahead though, is there reason to believe that new therapeutics to alleviate pain and prevent further joint degeneration are on the horizon? A brief look at the modern understanding of OA progression suggests an emphatic oxymoron, "maybe, yes."
In this article, a brief overview of OA pathogenesis frames recent discoveries suggesting that new strategies for this disease are possible.
OA Pathogenesis
The pathogenesis of OA can be conceptualized as a complex set of interactions that cooperate to promote joint degeneration over time (see Figure 1). Diverse insults can initiate the osteoarthritic process.1 These include joint injury (e.g., ligament or meniscal tears), malalignment, prior episodes of inflammatory arthritis and the aging process itself.
Genetic conditions that affect joint lubrication and type II collagen biochemistry can also instigate OA.2-4 Eventually, a chronic wound-healing response becomes entrenched within the joint.5 Cartilage degradation products aggravate a synovial inflammatory response, which in turn upregulates catabolic enzymes, such as matrix metalloproteinases (MMPs) and cathepsins, further damaging the cartilage matrix.1 The subchondral bone also undergoes profound changes, with accelerated bone turnover early in the disease, followed by necrosis and fibrosis, which can be seen as bone marrow edema-like lesions on MRI. Ultimately, sclerosis and subchondral cysts develop.6
These alterations in subchondral bone may influence the mechanical properties of the overlying cartilage perpetuating damage. Inflammation and loss of chondrocytes also reduce synovial fluid and boundary lubricants that may stress cartilage further.7
It is this web of interactions that makes OA a challenge for therapeutic development. However, recent studies suggest that disease-modifying treatments are possible. Here, we look at three possible classes of therapeutics: catabolic enzyme inhibitors, biolubricants and stem cells.