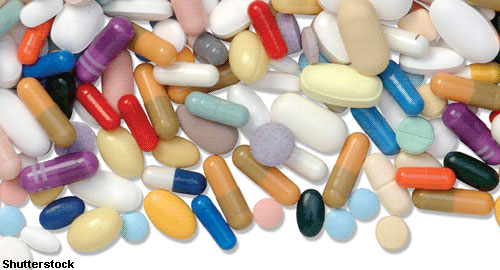 NSAIDs Increase Myocardial Infarction Risk
According a recent meta-analysis of real-world non-steroidal anti-inflammatory drug (NSAID) use, NSAIDs may increase the risk of acute myocardial infarction (AMI). The analysis used individual patient data meta-analysis of studies from healthcare databases in Canada, Finland and the U.K. to determine the time course for risk of AMI, as well as the effects of dose and duration of continuous NSAID use.1
Also By This Author
Researchers found that using NSAIDs for one week or more increases a person's risk of experiencing an AMI. The NSAIDs in the study include celecoxib, diclofenac, ibuprofen, naproxen and rofecoxib. Low-dose aspirin was not included.
ADVERTISEMENT
SCROLL TO CONTINUE
Each NSAID-use category compared the date of AMI for cases and matched the date for controls with NSAID non-use in the prior year, also looking at the posterior probability of AMI. The cohort included 446,763 individuals, of whom 61,460 had an AMI. The corresponding odds ratios were 1.24 for celecoxib, up to 1.53 for naproxen and 1.58 for rofecoxib, which is no longer available in the U.S.
A greater AMI risk was associated with higher NSAID doses and within the first month (Days 8–30) of continued use. Drugs and doses associated with this risk were greater than 200 mg celecoxib, 100 mg diclofenac, 1,200 mg ibuprofen and 750 mg naproxen. The AMI risk with celecoxib did not seem greater than with traditional NSAIDs. Additionally, the AMI risk for using NSAIDs for more than one month did not exceed the risk associated with shorter durations of use.
ADVERTISEMENT
SCROLL TO CONTINUE
In the study, the authors note that the absolute risk is very small and varies based on a patient's baseline risk. They also note that as patients use these agents for longer treatment durations, the risk does not seem to continue to increase. However, they caution that they only studied patients with one AMI, not repeat AMIs. To be prudent, they note, patients should use NSAIDs for as short a time as possible.
Increased Risk of Leg & Foot Amputations with Canagliflozin
On May 16, the U.S. Food and Drug Administration (FDA) confirmed that canagliflozin-treated patients underwent leg and foot amputations about twice as often as placebo-treated patients. This announcement was based on the results of two clinical trials: the Canagliflozin Cardiovascular Assessment Study (CANVAS) and A Study of the Effects of Canagliflozin on Renal Endpoints in Adult Participants with Type 2 Diabetes Mellitus (CANVAS-R). Canagliflozin (Invokana, Invokamet, Invokamet XR) is an oral sodium-glucose cotransporter-2 (SGLT2) inhibitor used to treat Type 2 diabetes.2