You Might Also Like
Explore This Issue
February 2014
Also By This Author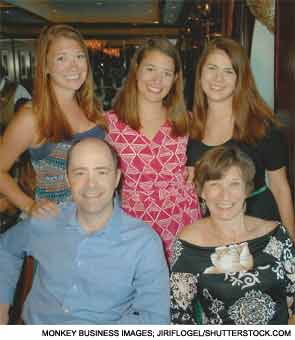 The Russell family. Bottom, left to right: Steve and Debbie. Top: Their daughters.
ADVERTISEMENT
SCROLL TO CONTINUE
Steve Russell's voice breaks with emotion as he talks about a remarkable moment in his daughter's life. "The first time she ran that cross-country meet three months after being in the hospital was an amazing thing," he says. At least half of the competitors had already finished the race, but Steve and his wife, Debbie, were waiting for their daughter Courtney. "Then she crossed the finish line, and Debbie and I are sitting on the finish line just crying, tears running down our faces." Just three months before that touching moment, Courtney, at the age of 16, had spent four days in the hospital. She was diagnosed with systemic juvenile idiopathic arthritis (sJIA).
It all started nearly a year before that cross-country meet. As Courtney's sophomore year in high school was getting into full swing, she started getting sick. She had a fever, rash, joint pain, and sore throat. After a few days, her parents took her to the doctor. The doctor told them it looked like a parvovirus infection and it would clear up on its own. In a few weeks, Courtney's symptoms did clear up, but just a couple of months later, they were back. This time she also had hives that would come and go. "That lasted for months," Debbie explains, "sometimes so severe on her hands that her hands would swell so she couldn't even close them." Courtney was taking painkillers, antiinflammatory drugs, and allergy medication, but nothing was helping.
ADVERTISEMENT
SCROLL TO CONTINUE
This went on for about nine months. It was a difficult time for Courtney and the family. Courtney spent almost the entire school year in pain. "It got so bad that she couldn't roll over at night without being in extreme pain; getting from the bed to go the bathroom was extraordinary," Steve says. "To watch your child go through something like this is painful beyond words." Still, Courtney kept up with her studies and even continued playing competitive volleyball through the end of the season. The Russells say, through it all, they learned just how tough kids are. "It was incredible how resilient and optimistic she was through this whole process, what she would deal with just to get through the school day," Debbie proudly explains. Still, they wanted answers. She says, "It was gut-wrenching to just not know what was wrong with her and that we couldn't do anything to help her."