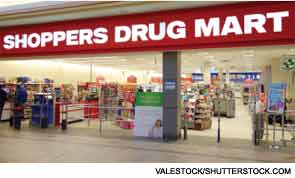 ADVERTISEMENT
SCROLL TO CONTINUE
Last fall, the Canadian Ministry of Health and the Shoppers Drug Mart/Pharmaprix chain of 1,200 pharmacies announced the launch of their Arthritis Screening Program. The program uses pharmacists to help screen for osteoarthritis of the knee (KOA) and to give information on treatments as well as medications. It is the result of research carried out by the Arthritis Research Centre of Canada (ARC) under the auspices of the Canadian Institute of Health Research.
"It has been long established in diabetes and other diseases that pharmacists are in a position to detect problems early, largely because they see patients eight times more often than the family doctor," says John Esdaile, MD, scientific director for the center. "We wanted to know if pharmacists were a way of detecting KOA earlier than we do now."
ADVERTISEMENT
SCROLL TO CONTINUE
Two Studies
The center completed two studies on the subject as a precursor to the screening program. The first was a pilot study published in 2007.1 The second was a randomized controlled trial that looked at interventions after the pharmacist had completed the screening.2
"In the first study, we basically administered a questionnaire to people 50 years and older who had pain in or around the knee," says Carlo A. Marra, PharmD, PhD, from ARC and the faculty of Pharmaceutical Sciences at the University of British Columbia in Vancouver. "The pharmacists did a really good job of finding people with KOA who hadn't been diagnosed before. The care gap appeared to be massive."
For the follow-up study, the patients were first screened. Seventy-three patients suspected of having arthritis were randomized to the treatment arm. Their current medication regimens were reviewed, and they received suggestions for over-the-counter medication and treatment following the 2008 ACR guidelines. They were also referred to a physiotherapist (PT) for guidance on exercise and weight control. The 66-person control group was given a pamphlet on KOA.
ADVERTISEMENT
SCROLL TO CONTINUE
"We found highly significant changes in the pass rate on the Arthritis Foundation's quality indicators for OA among those receiving treatment," notes Dr. Esdaile. "In addition, there were significant differences in pain, movement, and function scores on various tools at three and six months. Another look at the data showed this to also be very cost effective, driven by lower medicine costs from the pharmacist consultation as well as fewer visits to physician apparently tied to the use of PTs."
Pharmacist-Centered Program Useful
The results indicated that pharmacist-centered interventions could be useful in both finding and treating KOA. This led to the wider program currently underway by the Shoppers Drug Mart chain.