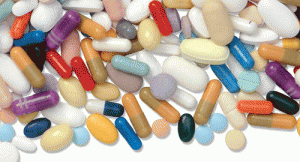 Secukinumab for Psoriatic Arthritis
The efficacy and safety of subcutaneous (SC) secukinumab were evaluated in a Phase 3 randomized, double-blind, multicenter, international study in 76 centers around the globe in adults (n=397) with active psoriatic arthritis.1
You Might Also Like
Also By This Author
Patients were randomly allocated to receive secukinumab in 300 mg, 150 mg and 75 mg doses or placebo once weekly and then every four weeks after Week 4. The primary endpoint was the proportion of patients achieving at least 20% improvement in the American College of Rheumatology response criteria (ACR20) at Week 24. One hundred patients received 300 mg secukinumab, 100 patients received 150 mg secukinumab, 99 patients received 75 mg secukinumab and 98 patients received placebo.
ADVERTISEMENT
SCROLL TO CONTINUE
More patients treated with 300 mg secukinumab achieved an ACR20 at Week 24 (54%), than those at other doses. Fifty-one percent of patients treated with 150 mg secukinumab achieved ACR20 at Week 24, along with 29% of patients treated with 75 mg secukinumab. Fifteen percent of placebo-treated patients achieved ACR20 at Week 24.
Secondary endpoints at Week 24 were the proportion of patients achieving Psoriasis Area and Severity Index score of at least 75% (PASI 75) and 90% (PASI 90) change from baseline in 28 Joint Disease Activity Score using C-Reactive Protein (DAS28-CRP) and change in medical outcomes using the SF-36-PCS.
ADVERTISEMENT
SCROLL TO CONTINUE
PASI75/90 response rates, and mean changes from baseline in DAS28-CRP and SF36-PCS were all significantly higher with 300 mg and 150 mg secukinumab vs. placebo at Week 24. The 75 mg secukinumab dose did not significantly improve the PASI75 response vs. placebo.
Up to Week 16, the most common adverse events were nasopharyngitis and upper respiratory tract infections occurring in all secukinumab-treated groups. No cases of active tuberculosis were reported. Eleven secukinumab-treated patients developed candida infections, but most were mild to moderate in severity and resolved spontaneously or with oral therapy. Three cases of squamous cell carcinoma were reported (two in the 75 mg group and one in the 150 mg group). Both patients in the 75 mg group discontinued study treatment. No deaths were reported.
AP-003-B for Osteoarthritis
Ampion, a low molecular weight fraction of human serum albumin (HSA), is currently in Phase 3 clinical trials to treat pain and inflammation due to knee osteoarthritis (OA).2 The main ingredient in Ampion is aspartyl-alanyl diketopiperazine, or DA-DKP, an endogenous immunomodulatory molecule derived from the N-terminus of HSA.3 This agent acts as a non-steroidal, anti-inflammatory biologic agent that can potentially treat a large range of acute and chronic inflammatory conditions and immune-mediated diseases, which it is currently being investigated to treat.
ADVERTISEMENT
SCROLL TO CONTINUE
Michele B. Kaufman, PharmD, CGP, RPh, is a freelance medical writer based in New York City and a pharmacist at New York Presbyterian Lower Manhattan Hospital.
References
McInnes IB, Mease PJ, Kirkham B, et al. Secukinumab, a human anti-interleukin-17A monoclonal antibody, in patients with psoriatic arthritis (FUTURE 2): a randomised, double-blind, placebo-controlled, phase 3 trial. Lancet. 2015 Sep 19;386(9,999):1137–1146. doi: 10.1016/S0140-6736(15)61134-5.
Ampio Pharmaceuticals Inc. News release: Ampio receives special protocol assessment (SPA) from the FDA and commences second phase III pivotal trial of Ampion. 2015 Sep 22.
Ampio Pharmaceuticals Inc. About Ampion for the treatment of osteoarthritis of the knee. 2015.