You Might Also Like
Explore This Issue
April 2015
Also By This Author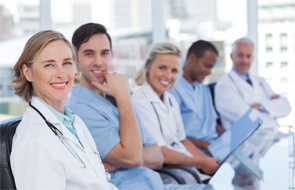 Image Credit: wavebreakmedia/shutterstock.com
With a rheumatologist shortage looming and more patients requiring care for rheumatic diseases, it's no surprise that nurse practitioners (NPs) and physician assistants (PAs) will need to step in more frequently to provide patient care.
ADVERTISEMENT
SCROLL TO CONTINUE
Professional organizations for both PAs and NPs point to their growing numbers in general medicine. In 2013, there were 95,583 certified PAs, a 5.9% increase over the previous year, according to the National Commission on Certification of Physician Assistants (NCCPA). The NCCPA predicts there will be more than 125,000 certified PAs by the end of 2018, as well as an increase in PA education programs, from 180 in 2014 to 250 by 2018.
Research from the NCCPA shows that 7.7% of PAs work in subspecialties of internal medicine, such as rheumatology. The actual number of PAs in rheumatology will likely grow in coming years due to the graying of the population and fewer doctors choosing rheumatology, says Barbara Slusher, MSW, PA-C, assistant professor of physician assistant studies, University of Texas, Galveston. "Rheumatology is a specialty of chronic conditions, and PAs are well suited to manage and educate chronic patients," she says.
ADVERTISEMENT
SCROLL TO CONTINUE
The American Academy of Nurse Practitioners predicts that the number of NPs will rise dramatically by 2025 to 224,000, compared with 171,000 in 2013. (Note: In 1999, there were 97,000 NPs.) Twenty-two percent of NPs work in adult and geriatric care.
Rheumatologist Shariar Cohen-Gadol, MD, Los Robles Hospital and Medical Center, Thousand Oaks, Calif., recently hired an NP and planned to have a PA start shortly thereafter. He says that working with NPs and PAs has a number of advantages, including the ability to train them in the specialty and using them to fit specific needs you might have at your practice. The salary a practice will pay them is also less than that of a full-time rheumatologist, Dr. Cohen-Gadol says.
Fifteen years ago, there was a long waiting list to see rheumatologists, but a short supply of them in the Thomasville, Ga., area. By bringing on Benjamin J. Smith, PA-C, a local practice was able to see people more quickly, he says.
ADVERTISEMENT
SCROLL TO CONTINUE
"With the rheumatology workforce shortages, nurse practitioners and physician assistants can certainly make a difference," Mr. Smith says.
So how can rheumatologists and their advanced practice providers band together to provide effective, efficient care going forward?
7 Tips for Collaborative Care
Have potential candidates shadow you. Shadowing before you hire is a crucial way for an NP or PA to make sure they are a match for your practice and for you to confirm the same. "You want someone who has a passion for and an interest in the field," says Dr. Cohen-Gadol, who had his new NP and PA hires shadow at the practice prior to officially hiring them, so they could get to know both patients and diseases. "For those two days, I ask questions of them, and they ask questions of me. It's mutual," he says.
Shadowing gives the rheumatologist the chance to see if the potential hire has the right personality traits for rheumatology, including patience—crucial in any medical specialty, but even more so in rheumatology, Dr. Cohen-Gadol believes—empathy and the desire to work in a more cerebral specialty like rheumatology. Finally, shadowing gives you the chance to see if there's a good work fit between the hiring rheumatologist and the potential new hire. For the patient's benefit, it's critical to have a collaborative team approach between the rheuma­tologist and the NP or PA, says rheumatologist Orrin Troum, MD, rheumatologist at Providence Saint John's Health Center in Santa Monica, Calif.
Decide what role the NP or PA will have in your practice. Some rheumatology practices bring on advanced practice professionals simply to handle an onslaught of patients. Others may have a specific role in mind where there's a practice shortage, such as managing an early arthritis clinic or handling more urgent cases. Others may choose one of those roles, but also have the practitioner perform an income-producing task, such as doing injections, says Dr. Cohen-Gadol. Using the ideas above, smaller practices may also benefit from adding an NP or PA, Dr. Troum says.
Decide whether to hire a new NP/PA graduate (and invest in their rheumatology training) or an NP/PA with previous rheumatology experience, recommends Mr. Smith. Because PAs and NPs usually have a general medical background, there's a good chance they will need hands-on training and experience with rheumatology. One possible way to help new hires is with the online Advanced Rheumatology Course, offered by the ARHP.
You may also want to consider teaching at local NP and PA programs as a way to educate future providers about rheumatic diseases and introduce them to the field's potential, says Ms. Slusher. "Good lecturers can bring the diseases to life," she says. Ms. Slusher is proud to have helped coordinate a rheumatology rotation for her students and that it's sparking some interest in the specialty.
Use all possible resources to find potential hires. Ms. Slusher recommends. Contact the NCCPA, the American Academy of Physician Assistants and your state and regional PA groups to find candidates. There are also similar resources for NPs.
Double-check what responsibilities are allowed for NPs and PAs under state law. The good news for rheumatologists is that both PAs and NPs often can take on a large chunk of responsibility. Mr. Smith, who works with a rheumatology practice, makes diagnoses, monitors treatments, orders and reviews labs and imaging, and sees referral patients, among other responsibilities.
Be open to constant communication. "Even if your NP is able to work autonomously, according to state regulations, you as the rheumatologist should be readily available for questions or concerns about patient care," Dr. Troum says.
Introduce patients to the new provider. "It's critical how you introduce the nurse practitioner or physician assistant to the practice," Ms. Slusher says. She advises creating a flyer with the provider's photo and general background and interests to post in your waiting room, including a similar piece in your practice newsletter and, perhaps, hosting a meet and greet.
As you plan to hand off certain patients to the new provider, make sure to introduce him or her to patients, so patients know that you, the rheumatologist, work in tandem with this person to support patient care. Ms. Slusher has seen circumstances in which every second or third visit, a patient seeing an NP or PA will once again see the physician, to reconnect with the doctor and to ensure the doctor and the advanced practice provider are both in the loop. "When there's trust and communication, patients feel that they are taken care of," she says.