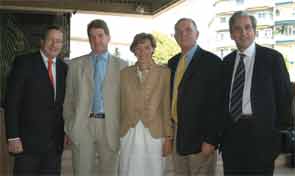 Rheumatology colleagues (left to right) Drs. Josef S. Smolen, Paul Emery, Désirée van der Heijde, Maxime Dougados, and F. C. Breedveld.

Among his many national and international collaborators, Maxime Dougados, MD, professor of rheumatology at René Descartes University and Hôpital Cochin in Paris, has earned a reputation as an innovator. Josef S. Smolen, MD, chair of the division of rheumatology at the Medical University of Vienna in Austria and chair of the second department of medicine at the Center for Rheumatic Diseases at Hietzing Hospital in Vienna, has known Dr. Dougados for about 20 years. It was during Dr. Smolen's term as president of the European League Against Rheumatism (EULAR), beginning in 2003, that their interactions intensified. Dr. Dougados had just become chair of the Standing Committee for Clinical Trials. "That was a very pleasant time," says Dr. Smolen, "because [Dr. Dougados] was extremely smart, extremely structured, and very evidence driven. He made a number of terrific proposals that the executive committee could all support, developing points to consider regarding how to produce recommendations and consensus statements."
You Might Also Like
Explore This Issue
September 2013
Also By This Author
Dr. Dougados' interest in clinical measurement took hold early in his medical career, and he has combined that interest with what Dr. Smolen calls "a talent for the group process." EULAR is now benefitting from that talent, as Dr. Dougados guides the organization as its current president. "He doesn't go into discussions with preconceived or mandated opinions," says Dr. Smolen, "but rather open for discussion and flexible."
ADVERTISEMENT
SCROLL TO CONTINUE
A visionary, a doer, a change agent: Dr. Dougados has carved a wide swath in the international sphere in rheumatology. By his own account, Dr. Dougados came from humble circumstances, growing up in the countryside in the south of France. As a young boy, he dreamt of becoming a teacher. However, during secondary school, his sister had a boyfriend who was studying medicine, and who also came from modest beginnings. He told the 15-year-old Maxime: "You can do this, too."
"I was attracted to medicine because of the possibility to have a human relationship in the job. I had in mind never to work alone in an office, but to work in connection with people," Dr. Dougados says. "So, thanks to the French public school system, my parents did not have to pay [for schooling]."
ADVERTISEMENT
SCROLL TO CONTINUE
Bonne Chance in Rheumatology
Dr. Dougados began his medical training in Bordeaux, initially intending to become a surgeon. By his third year as a medical student, however, he found that, "it was much more challenging and exciting to be a clinician." And then, in his fourth year of training, he married and moved to Paris to continue medical school. His first practicum was in rheumatology—and, as it happened, he landed in Bernard Amor's department. Dr. Dougados was so impressed with his mentor ("he was very clever, precise, rigorous, and considered the patient suffering from rheumatic disease as a whole person," Dr. Dougados says) that he immediately decided to become a rheumatologist. He was only 20 years old at the time.