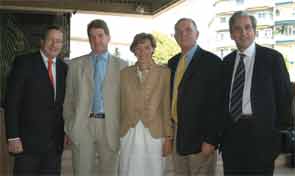 Rheumatology colleagues (left to right) Drs. Josef S. Smolen, Paul Emery, Désirée van der Heijde, Maxime Dougados, and F. C. Breedveld.

Among his many national and international collaborators, Maxime Dougados, MD, professor of rheumatology at René Descartes University and Hôpital Cochin in Paris, has earned a reputation as an innovator. Josef S. Smolen, MD, chair of the division of rheumatology at the Medical University of Vienna in Austria and chair of the second department of medicine at the Center for Rheumatic Diseases at Hietzing Hospital in Vienna, has known Dr. Dougados for about 20 years. It was during Dr. Smolen's term as president of the European League Against Rheumatism (EULAR), beginning in 2003, that their interactions intensified. Dr. Dougados had just become chair of the Standing Committee for Clinical Trials. "That was a very pleasant time," says Dr. Smolen, "because [Dr. Dougados] was extremely smart, extremely structured, and very evidence driven. He made a number of terrific proposals that the executive committee could all support, developing points to consider regarding how to produce recommendations and consensus statements."
You Might Also Like
Explore This Issue
September 2013
Also By This Author
Dr. Dougados' interest in clinical measurement took hold early in his medical career, and he has combined that interest with what Dr. Smolen calls "a talent for the group process." EULAR is now benefitting from that talent, as Dr. Dougados guides the organization as its current president. "He doesn't go into discussions with preconceived or mandated opinions," says Dr. Smolen, "but rather open for discussion and flexible."
ADVERTISEMENT
SCROLL TO CONTINUE
A visionary, a doer, a change agent: Dr. Dougados has carved a wide swath in the international sphere in rheumatology. By his own account, Dr. Dougados came from humble circumstances, growing up in the countryside in the south of France. As a young boy, he dreamt of becoming a teacher. However, during secondary school, his sister had a boyfriend who was studying medicine, and who also came from modest beginnings. He told the 15-year-old Maxime: "You can do this, too."
"I was attracted to medicine because of the possibility to have a human relationship in the job. I had in mind never to work alone in an office, but to work in connection with people," Dr. Dougados says. "So, thanks to the French public school system, my parents did not have to pay [for schooling]."
ADVERTISEMENT
SCROLL TO CONTINUE
Bonne Chance in Rheumatology
Dr. Dougados began his medical training in Bordeaux, initially intending to become a surgeon. By his third year as a medical student, however, he found that, "it was much more challenging and exciting to be a clinician." And then, in his fourth year of training, he married and moved to Paris to continue medical school. His first practicum was in rheumatology—and, as it happened, he landed in Bernard Amor's department. Dr. Dougados was so impressed with his mentor ("he was very clever, precise, rigorous, and considered the patient suffering from rheumatic disease as a whole person," Dr. Dougados says) that he immediately decided to become a rheumatologist. He was only 20 years old at the time.
"I was a lucky person because I was working in an environment of outcome measures," Dr. Dougados now says of his time with Dr. Amor's department. "What impressed me and was new for me was the fact that he was raising the right question at the right time in a very, very simple way. As soon as you raise the question in a very simple way, everybody is able to understand. And he was intelligent enough to accept that he was not able to answer all your questions, but he was, every time, asking the young students to argue, and to ask him 'why, why, why?' such as a child does. That was fantastic for me. I then understood that by doing this reasoning, you improve dramatically the way you look at the patient and at the disease. And so I was taught within the department of Bernard Amor in terms of standardized operating procedures: using the criteria to make a diagnosis, using the criteria to monitor your patients."
Going International
After completing his medical training, Dr. Dougados joined Dr. Amor's department as an assistant professor. Dr. Amor was already known for the development of criteria for spondylarthritis (SpA), which he had not published. Attending European and American meetings, Dr. Dougados believed that the discussions about SpA would benefit from Amor's template. He urged his mentor to publish the criteria, and organized a meeting with top European SpA experts. "My main objective [in organizing the meeting] was to convince the key European opinion leaders to validate the criteria of Bernard Amor, and I failed," Dr. Dougados says. Although his initial mission did not succeed, out of the meeting grew the resolve to conduct a study to elaborate new criteria for SpA. The genesis of the European Spondyloarthritis Study Group (ESSG) was Dr. Dougados' first personal experience as an international study coordinator. The study yielded new SpA criteria, published in Arthritis & Rheumatism, ironically right around the time that Dr. Amor's published criteria appeared.1
ADVERTISEMENT
SCROLL TO CONTINUE
Soon after that, Dr. Dougados encountered Désirée van der Heijde, MD, PhD. Currently a professor of rheumatology at Leiden University Medical Center in the Netherlands and a senior researcher at Diakonhjemmet Hospital in Oslo, Norway, Dr. van der Heijde was then (about 1993) transitioning back to academia after working in the pharmaceutical industry. "The first really big project we did together was the OASIS cohort, an important investigator-initiated study," she recalls. Since that time, the two have worked together frequently, publishing multiple papers from their collaborative group's work.2 Dr. Dougados was among the first ASsessment of Ankylosing Spondylitis (ASAS) group steering committee members in 1995. Dr. Dougados has always been a plus in any collaborative situation, Dr. van der Heijde says. "He's very creative, always full of ideas, persistent, very systematic, always in a good mood, and able to bring people together—mostly by his natural charms."
Tore K. Kvien, MD, PhD, professor of rheumatology at the University of Oslo, head of the department of rheumatology at Diakonhjemmet Hospital in Oslo, Norway, and a past president of EULAR, first met Dr. Dougados when he coordinated one of the participating centers in the sulfasalazine versus placebo studies in ankylosing spondylitis, psoriatic arthritis, and rheumatoid arthritis in the early '90s.3 Dr. Kvien's term as president of EULAR also coincided with Dr. Dougados' chairmanship of the Standing Committee for Clinical Affairs. "Maxime is an extremely innovative person," Dr. Kvien says. "He always has original ideas, but he's also a doer who really performs and achieves results. He was the architect behind the system for elaboration, dissemination, and implementation of EULAR recommendations that really set the stage on how to develop those." In its elegant and logical language, one can detect the through-line of Dr. Amor's model for his trainees: explain things in a simple and clear way.4
A Continued Legacy
Dr. Dougados took the foundational lessons he learned from Dr. Amor and began to apply them to all of his pursuits, both in his own department and within organizations with which he was affiliated. Laure Gossec, MD, PhD, now an associate professor of rheumatology at the Université Pierre et Marie Curie and Hôpital Pitié-Salpétrière in Paris, joined the Hôpital Cochin department and was impressed that the department was not organized in a hierarchical fashion, that evidence-based algorithms determined patient protocols, and that Dr. Dougados encouraged collaboration with his trainees. "He is really a wonderful person to work with," she remarks. "He is so dynamic and very, very positive; and he is not possessive or protective of his ideas."
Dr. Gossec recalls that, "spending six months in [Dr. Dougados'] unit really changed my life." In 2002, her career goal was to simply open a private practice in rheumatology, which would allow her flexibility to expand her family. Dr. Dougados, who, as a mentor, constantly looks for people interested in international projects, saw that she had potential for that. He began nurturing her talents, encouraging her to pursue the doctoral track, to acquire the requisite epidemiology and statistical background, and then, she says, "From 2004, he was pushing me into collaborations," asking her to organize for meetings and to present slides. "At first, I didn't realize how important that was. But, of course, it was terribly useful, because people saw me present and began to know my name," she says.
Dr. Dougados is well known for the quality of young talent he has nurtured over the years. He is an avid supporter of EMEUNET [Emerging EULAR Network] (of which Dr. Gossec, along with Daniel Aletaha and Maya Burch, is a co-founder) and has always encouraged his trainees to grow. "There is a famous African saying," says Dr. Dougados, paraphrasing the translation, "that you recognize the great people as the ones who are able to accept that their collaborators are growing even higher than they are."
That's exactly the type of leadership quality that Claire Bombardier, MD, professor of medicine and rheumatology division director at the University of Toronto in Ontario, has observed in her colleague. "Part of his success is his democratic approach," she says. Dr. Bombardier met Dr. Dougados 25 years ago, when he invited her to speak at a meeting of the French Rheumatology Association. At that time, she notes, clinical epidemiology and clinical research methodology were not that prevalent, but Dr. Dougados had already written his book on measurement. "It was unusual, in those days, for a rheumatologist to write books on methods of research," Dr. Bombardier says. "Not only did he have the intellectual curiosity, but he had the people skills to rally people around him to do things."
I was attracted to medicine because of the possibility to have a human relationship in the job. I had in mind never to work alone in an office, but to work in connection with people.

—Maxime Dougados, MD
Raising the Standard
Dr. Dougados has employed his talents for group dynamics in myriad domains, and has been, says Dr. Kvien, "a key person in formalizing the collaboration with ACR on various projects." Dr. Dougados recalls a seminal conversation in 2006 in San Antonio, Texas, with Sherine Gabriel, MD, MSc, an epidemiologist who trained with Dr. Bombardier in Toronto, and who was his counterpart in clinical affairs with the ACR. (Dr. Gabriel later become president of the ACR.) "That was the beginning of the story of the ACR/EULAR criteria for rheumatoid arthritis, and three years later, the criteria resulted in publication in both journals of our societies.5,6 Can you imagine? Twenty years ago it was impossible to imagine that this would be the result," he says.
Dr. Gossec pointed out that he has been a driving force behind the Collège Français des Enseignants en Rhumatologie [COFER], the Consortium of French Professors of Rheumatology. "Dr. Dougados is very critical of keeping patients in the hospital too long or not doing proper workups. He led the group to establish a list of practice standards for rheumatologists."
Dr. Dougados is also proud of his collaboration during the past two decades with his colleagues in Morocco, especially Najia Hajjaj-Hassouni, MD, chief of the department of rheumatology in Rabat and acting dean of the University of Mohammed V-Souissi there. "I have the arrogance to think that I have contributed to the success of Moroccan rheumatology," says Dr. Dougados. "The annual scientific meeting is of high quality and the number of peer review manuscripts coming from Morocco is impressive."
Another example of Dr. Dougados' vision was his promotion of the 3E [Evidence, Expertise, and Exchange] Initiative in Rheumatology, originally a partnership with Abbott Laboratories to bring together experts to develop guidelines for topics in rheumatology. It was Dr. Dougados who convinced Abbott to then invite steering committees from countries around the world, who used group dynamic voting to select questions and disease topics about which clinicians had uncertainty. The 3E platform was expanded to include young physicians who would be brought in as fellows to search the literature and find answers to the selected questions. Dr. Dougados drew upon his roster of international colleagues to become mentors for these young fellows, thus fostering a new generation of future leaders in the field. According to Dr. Bombardier, who has participated as a 3E mentor, Dr. Dougados insisted that the fellows who did research on the topics should be listed as first authors on the resulting papers.7 After five iterations of the 3E process, Dr. Dougados announced it was time for him to step down as a leader, a move that Dr. Bombardier says is emblematic of the way he acts as a change agent. "He's open to international activity, he's great at group dynamics, he thinks of the young people, but he also doesn't want to control things forever—he steps down and lets other people try. And not a lot of senior rheumatologists are able to do that," she says.
Many Talents
Dr. Dougados also has a knack for social settings, says Dr. Bombardier. He is a wonderful dancer, she notes, and he is generally regarded as a charming person. He enjoys golfing close to his summer home near Bordeaux, and Dr. Kvien recalls a happy fishing trip with a group of rheumatologists last June in Tromsø, Norway. "Maxime was a very enthusiastic fisherman and caught more codfish than anyone else," he laughs. "He is a charming person with a good sense of humor and an enormous work capacity."
---
Gretchen Henkel writes the "Metrics in Rheumatology" series.
References