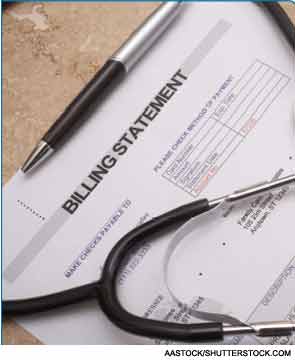 ADVERTISEMENT
SCROLL TO CONTINUE
Medical billing is one of the most complex components of most physician practices. With the introduction of new technologies and government regulations, physician practices should not neglect business operations, as this can bring about unnecessary financial consequences. One area of any practice that should be reviewed is whether to keep medical billing operations in-house or outsource them.
It doesn't matter if the billing operation of the practice is in-house or outsourced if the coding of claims is not up to par. It is important to note that the success of your billing operations is dependent on the physician's coding and billing knowledge. If the services rendered are not coded properly, then the billing to payers will be inadequate, causing a downturn in reimbursement. On the other hand, if claims are coded and billed correctly and in a timely manner, cash will keep flowing in the practice.
ADVERTISEMENT
SCROLL TO CONTINUE
In-House Billing
There are a number of things to consider for an in-house billing department. The average in-house billing department consists of one or two well-trained billers. Having the billing service in house allows you to stay abreast of your day-to-day operations, along with giving you the opportunity to pursue outstanding balances faster. Keep in mind, there will be some administrative work on the front end, including start-up cost and payroll expenses for additional staff. You will need to purchase software to process the claims, register with a clearinghouse for the claims, and create additional space in your office for data storage as well as reference materials for coding and billing. One other benefit to having your billing services in house is the ability for staff to make any inquiries on a claim in real time.
Outsourced Billing
If you decide to outsource your claims billing, it is strongly recommended that you have a reputable company with well-trained staff to oversee the processing of your claims. Having a medical billing company handle all your billing will ease the administrative burden of additional staff in your practice. However, it is wise to shop around and get recommendations for a billing company before signing a contract. With the claims processing outside of your office and out of your reach, problems can arise with claims submitted incorrectly or not coded properly, which can ultimately hurt the practice's bottom line.
Keep in mind that you are still responsible for remaining within compliance while outsourcing your billing to a third-party billing service. Failure to do so can put you at risk for a government investigation. A relationship with a third-party biller can increase your compliance obligations and raise audit risks. The Office of the Inspector General (OIG) is scrutinizing the relationships between billing companies and the providers that contract with them to determine "the impact of these arrangements on physicians' billing," according to the agency's work plan. The OIG wants to ensure that third-party billers are not driving up physician billing to increase the perceived value of their contract and what physicians will pay them. One of the biggest risks that the OIG will review is arrangements where providers pay billing agencies a percentage of the reimbursement they collect—especially if the billing agencies try to influence what codes the physician bills.