My first patient in Dubai was a wealthy, westernized Emirati who paid cash for his anti-TNF biologic used to treat his rheumatoid arthritis. My second patient was a gardener who earned $200 a month. His monthly salary would not cover the office visits, any lab tests or even methotrexate. Fortunately, we could treat him without cost, and as a result, his life has been transformed. He can work and send money home to support his family in Pakistan.
You Might Also Like
Explore This Issue
June 2014
Also By This Author
These examples are constantly repeated in my practice. One day I may care for royalty and business executives for whom the costs don't matter, and the following day I may see maids and drivers who can't afford the cost of any care.
ADVERTISEMENT
SCROLL TO CONTINUE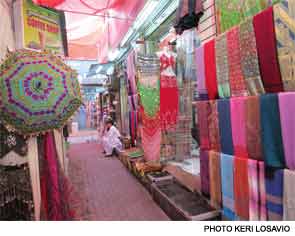 Dubai's Gold Souk offers a taste of the old-style marketplace.
Patient Support Group Created
I was fortunate to gather together a group of people who believe passionately in finding a solution to the inequity in medical care in the UAE. Mohamed Al Hashimi is a prominent Emirati businessman who suffers from ankylosing spondylitis. With his support, we created the EAF, the first patient support group for any disease in this region. By speaking about his illness, we have started to remove the stigma attached to chronic disease in this society.
ADVERTISEMENT
SCROLL TO CONTINUE
Suzanne Al Houby, a businesswoman who has scaled great professional and personal heights (she is the first Arab woman to summit Mount Everest and conquer many of the world's tallest peaks), became a cofounder.
We launched the foundation in 2007 under the patronage of Princess Haya, Bint Al Hussein, wife of Sheikh Mohamed Bin Rashid Al Maktoum, ruler of Dubai. We raised almost $1 million through private and philanthropic donations and spent more than 70% of this amount on direct patient care.
The stories have been remarkable. A 30-year-old Indian nurse came to us, unable to walk or care for her 1-year-old child, due to end-stage secondary osteoarthritis of her knees caused by her inflammatory arthritis. The EAF was able to cover the cost of her knee replacement surgery and her biological drug therapy. To date, the EAF has paid for the care and treatment of more than 40 patients.
ADVERTISEMENT
SCROLL TO CONTINUE
The financial crisis of 2009 hit Dubai hard. Private donations dried up. We changed our focus and concentrated on awareness building, patient support groups and walkathons. Katrina Thornely, a British expat who has suffered from juvenile arthritis since the age of 2, has been a driving force behind the EAF. We are fortunate to have many others who have volunteered their time and effort on behalf of the Foundation.