Audrey B. Uknis, MD

In his speech in Cape Town, South Africa, in 1966, Robert F. Kennedy referenced the saying, "may you live in interesting times." Indeed, today we live in not only interesting times, but amazing times. Along with continual advances in technology, true breakthroughs in treatment for our patients, and the rapid transformation of the healthcare landscape, reforms are in development that could substantially alter the physician payment system for the first time since 1997. Also of great concern is the threat of ongoing decreases in National Institutes of Health (NIH) funding, undermining the future of discovery and the health of our research and training enterprises—threats that have the potential to intensify the crisis in our already stressed workforce.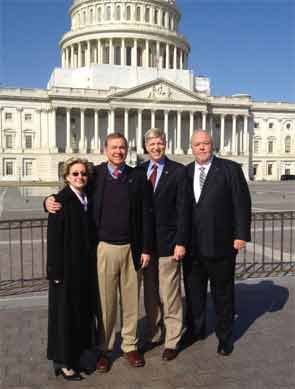 ACR President Audrey B. Uknis, MD, Treasurer E. William St.Clair, MD, Past President James O'Dell, MD, and, President-Elect Joseph Flood, MD, (left to right) advocating on Capitol Hill.
President John F. Kennedy noted, "To those whom much is given, much is required." With these amazing times in which we live, there comes a responsibility to seize this moment. I have confidence that the ACR, with the strength of conviction and sense of responsibility of our members, has the capability to seize this moment of unprecedented opportunity. Each of us must contribute to the collective effort that will shape the future of healthcare.
Shaping the Future of Physician Payments
Medicare's physician payment formula—the Sustainable Growth Rate (SGR) formula—dates back to 1997. Over the past decade, rheumatologists and other physicians have faced increasingly large cuts, and Congress has had to step in 16 times with short-term patches to prevent drastic consequences. The ongoing threat of cuts continues to jeopardize patient access to rheumatologists. Just as problematic is this system's focus on rewarding volume rather than quality of care. The undervaluation of nonprocedural, face-to-face care and coordination also jeopardizes patient access to care and the very future of cognitive specialties like rheumatology.
Our lawmakers agree that the SGR must be replaced with a more rational formula. Expertise and quality of care must be recognized as more critical than quantity of care. Moreover, the experts in the field must be responsible for setting the standards for excellence; advanced training and clinical expertise must be a critical part of any successful formula.
The good news is that we have the opportunity—and the responsibility—to work together to help shape how reform moves forward. The ACR has been working with the key committees in Congress over the past two years on components of a "repeal and replace" plan to deal with the SGR. Chairman Fred Upton, of the powerful Energy and Commerce Committee, has said that he wants a bill on the floor of Congress before August. In addition to other recommendations, we are asking that the bill include a provision to reverse the 2% sequester cuts to Medicare payments that went into effect in April.