Audrey B. Uknis, MD

In his speech in Cape Town, South Africa, in 1966, Robert F. Kennedy referenced the saying, "may you live in interesting times." Indeed, today we live in not only interesting times, but amazing times. Along with continual advances in technology, true breakthroughs in treatment for our patients, and the rapid transformation of the healthcare landscape, reforms are in development that could substantially alter the physician payment system for the first time since 1997. Also of great concern is the threat of ongoing decreases in National Institutes of Health (NIH) funding, undermining the future of discovery and the health of our research and training enterprises—threats that have the potential to intensify the crisis in our already stressed workforce.
ADVERTISEMENT
SCROLL TO CONTINUE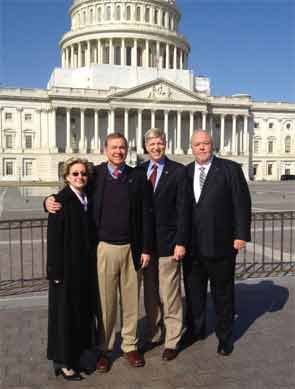 ACR President Audrey B. Uknis, MD, Treasurer E. William St.Clair, MD, Past President James O'Dell, MD, and, President-Elect Joseph Flood, MD, (left to right) advocating on Capitol Hill.
President John F. Kennedy noted, "To those whom much is given, much is required." With these amazing times in which we live, there comes a responsibility to seize this moment. I have confidence that the ACR, with the strength of conviction and sense of responsibility of our members, has the capability to seize this moment of unprecedented opportunity. Each of us must contribute to the collective effort that will shape the future of healthcare.
Shaping the Future of Physician Payments
Medicare's physician payment formula—the Sustainable Growth Rate (SGR) formula—dates back to 1997. Over the past decade, rheumatologists and other physicians have faced increasingly large cuts, and Congress has had to step in 16 times with short-term patches to prevent drastic consequences. The ongoing threat of cuts continues to jeopardize patient access to rheumatologists. Just as problematic is this system's focus on rewarding volume rather than quality of care. The undervaluation of nonprocedural, face-to-face care and coordination also jeopardizes patient access to care and the very future of cognitive specialties like rheumatology.
ADVERTISEMENT
SCROLL TO CONTINUE
Our lawmakers agree that the SGR must be replaced with a more rational formula. Expertise and quality of care must be recognized as more critical than quantity of care. Moreover, the experts in the field must be responsible for setting the standards for excellence; advanced training and clinical expertise must be a critical part of any successful formula.
The good news is that we have the opportunity—and the responsibility—to work together to help shape how reform moves forward. The ACR has been working with the key committees in Congress over the past two years on components of a "repeal and replace" plan to deal with the SGR. Chairman Fred Upton, of the powerful Energy and Commerce Committee, has said that he wants a bill on the floor of Congress before August. In addition to other recommendations, we are asking that the bill include a provision to reverse the 2% sequester cuts to Medicare payments that went into effect in April.
As reform efforts ramped up this spring, the ACR has been approached and has weighed in multiple times with recommendations for the new system. I have met with Rep. Allyson Schwartz (D-PA), who represents parts of Philadelphia, on two occasions, and we have provided input to assure appropriate recognition of cognitive specialists in the bipartisan Medicare Physician Payment Innovation Act (Schwartz/Heck, H.R. 574). Outcomes of congressional action are never certain, but the strength of our expertise and the relationships that we have developed with members of Congress continue to place us in the right position to effect change in a positive way.
ADVERTISEMENT
SCROLL TO CONTINUE
Fulfilling the Promise of Research
Still other forces are at play, threatening to limit the promise of medical research to improve the lives of our patients. Our nation's economy is facing many challenges, and our lawmakers are seeking ways to cut federal spending in order to reduce the escalating deficit. Over the past two years, Congress has failed to pass a bipartisan plan to reduce the deficit. Sequestration, intended as a deterrent to inaction, was offered as a last-ditch solution to our budget deficits. Unfortunately, these Draconian cuts came to pass this March. This included an 8% cut in funding for the NIH, which could translate into 2,300 fewer grants, according to NIH officials. While $71 million in funding was restored by Congress for FY13, with a $1.5 billion sequestration cut this year the impact on research programs is, and will continue to be, severe.
The ACR has been a strong advocate for increasing research funding, so we mobilized our membership to contact Congress when it seemed that cuts were imminent. We must ensure continued progress in the areas of improved diagnostics, better prevention strategies, and new treatments for our patients with arthritis, autoimmune disease, and other chronic conditions. We must ensure that research careers are not jeopardized at a time when we face critical workforce challenges in our academic rheumatology units. We face the real possibility that, as arthritis and autoimmune conditions become more prevalent and our understanding more complex, our workforce will be unable to meet the challenge of treating patients with rheumatic diseases.
Will we have the strength to help prevent cuts in health research funding, and protect the potential for new discoveries and the viability of the research engine? I believe that there is strength in the ACR membership. The promise of the breakthroughs we have seen compels us to seize this moment—to act to ensure the future of discovery in our field. It is up to all of us, working together through the ACR, to bring this critical message to our nation's lawmakers. As we have mobilized to fix the flawed SGR, so too must we find ways to ensure that these critical research investments continue.
Making the System Work for Our Patients
At the end of the day, we must make all of this work for our patients. The ability of our patients to access our unique, incomparable care, and to have access to the right treatments at the right time, is of key importance for our patients to have better outcomes and healthier, more productive lives. Regardless of how fantastic the treatments become, they are of no use at all if our patients cannot access them.
The ACR took the lead in efforts to increase access to biologic medicines. We worked with the Arthritis Foundation and formed the Coalition for Accessible Treatments, which now has 18 national physician societies and patient groups working toward this common goal. We have been instrumental in developing and advancing the Patients' Access to Treatments Act in the U.S. House (H.R. 460) and continue to work toward sponsorship in the Senate. I was encouraged recently by meetings in which ACR staff and I were joined by Arthritis Foundation leaders and patients to visit Senators Bob Casey (D-PA) and Johnny Isakson (R-GA) to make our case for this bill. Congress must act to limit excessive cost sharing imposed upon patients requiring biologic drugs and other expensive treatments. We must assure access to the best treatment options possible for our patients.
We are also working with members of Congress on ways to reduce the costs of treatments themselves, including allowing Medicare to negotiate the prices of Part D drugs with manufacturers. There is much work to be done to ensure that the promise of these therapies can actually be fulfilled for all of our patients.
I want to express my sincere gratitude for the effort that each of you has put into these critical issues, for channeling your passion into meaningful action. I want to ask that you not only continue your work through the ACR, but that—because of the great promise of this moment—we all increase what we are doing as individuals. Advocacy is the key to ensuring a healthy future for our profession and to sustaining our unencumbered ability to provide excellent care to our patients. At this time of unprecedented opportunity, we need you to dig in and give more. We need everyone to do his or her part. Meet with your representatives in Congress in their home offices, use the ACR's resources to maintain communications with them, and go with your colleagues to see them again in Washington, D.C., this September. Share your expertise and your voice as the ACR weighs in with our national policy makers. Give to RheumPAC—help us help you. I am confident that we have the strength to seize this moment, and we will successfully fulfill the promise of these times.
---
Dr. Uknis is professor of medicine and senior associate dean for admissions and strategy at Temple University in Philadelphia. Contact her at [email protected].