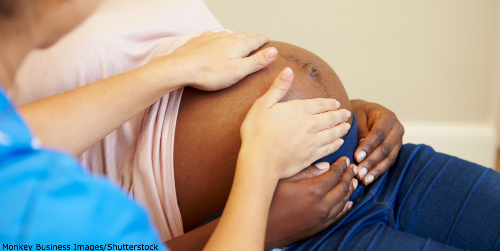 AMSTERDAM—Clinicians who are counseling women with systemic lupus erythematosus (SLE) have the benefit of an array of new insights into factors linked with increased risk of pregnancy loss, how SLE therapies affect pregnancy and data on outcomes of children born to mothers with SLE, an expert said in a session at EULAR: the Annual European Congress of Rheumatology.
You Might Also Like
Explore This Issue
September 2018
Also By This Author
The bottom line is that serious problems in pregnancy in women with SLE are relatively rare—when the pregnancy is carefully planned and managed. Issues that do arise can often be resolved with proper counseling of patients before pregnancy and monitoring of children after birth, said Angela Tincani, MD, professor of rheumatology at the University of Brescia in Italy.
ADVERTISEMENT
SCROLL TO CONTINUE
Complement as Biomarker
Researchers have found that complement levels could play a role in predicting pregnancy outcome. Reduced complement levels, as well as smaller increases in complement C3 from baseline to the first and second trimester, can predict loss of the pregnancy, Dr. Tincani said.
More recently, other findings have shown much the same thing in a different way: an increase in complement activation products in the first two to three weeks of pregnancy was predictive of an adverse pregnancy outcome even if levels of complement C3 and C4 stayed at normal levels.
ADVERTISEMENT
SCROLL TO CONTINUE
"This … can be a very interesting biomarker to be used," Dr. Tincani said. "These data show the complement system is implicated in pregnancy losses."1
Complications & Outcomes
A meta-analysis on maternal and pregnancy outcomes published last year—including 3,000 pregnancies in lupus patients and more than 300,000 pregnancies in women without lupus from 2001 to 2016—found that pregnant lupus patients are at 11 times higher risk of thromboembolic disease, at three times the risk of a premature birth and at 2.6 times the risk of having a baby with congenital defects.2
"In some circumstances, lupus patients can have an enormous number of problems compared to non-lupus patients," Dr. Tincani said.
ADVERTISEMENT
SCROLL TO CONTINUE
But the findings don't paint a complete picture, she said. She pointed out the findings were made retrospectively, that some were derived from small studies and that it's not known how the women were treated.
A study in which researchers prospectively followed pregnancies in women with lupus nephritis found that preeclampsia before the 34-week mark of pregnancy was increased. The study found that nephrophathy, hypertension and proteinuria were the most important predictors of complications during pregnancy.3
Another study of pregnant women with lupus nephritis who were followed prospectively and received multidisciplinary counseling, found that fetal loss was predicted by baseline arterial hypertension, positivity for lupus anticoagulant, anti-cardiolipin IgG antibodies and antibeta2 IgG antibodies.4
The overall message, Dr. Tincani said, is that complications are more common in lupus-related pregnancies, but they tend to be manageable problems if the right precautions are taken.
"SLE disease activity has a high impact on maternal and fetal outcomes," she said.
"Therefore, special treatments and care should be allocated to those women in order to manage adverse outcomes that might follow and to improve successful, normal delivery [of ] term infants and to reduce the risk of congenital abnormalities often linked to prematurity."
Therapeutic Options
Women with lupus who are pregnant have many therapeutic options at their disposal, Dr. Tincani said. Drugs that should be continued in pregnancy to maintain remission or to treat flares include hydroxychloroquine, chloroquine, sulfasalazine, azathioprine, cyclosporine-A, tacrolimus and colchicine.
Drugs considered teratogenic that should be withdrawn before pregnancy include methotrexate, mycophenolate mofetil and cyclophosphamide. Not enough information exists to make firm recommendations for leflunomide, mepacrine and selective COX-II inhibitors, Dr. Tincani said.
Hydroxychloroquine, especially, is known for pregnancy benefits—reducing SLE flare rate, congenital heart block risk and reducing the risk of babies small for gestational age, among other benefits in lupus nephritis patients. "It is absolutely indicated to continue [hydroxychloroquine] if [the patient is] already on treatment or to start it if pregnancy is planned," Dr. Tincani said.
According to EULAR recommendations, rituximab can be used in "severe, exceptional cases" in the first trimester, she said. Alternatives to belimumab should be considered because of limited experience.
Clinicians need to be armed with information on long-term outcomes, Dr. Tincani said, because inevitably would-be mothers will ask their "most burning" question: "Will my baby be healthy?"
Studies have found that children born to women with SLE have a similar rate of developing rheumatic autoimmune diseases, but a higher risk of non-rheumatic autoimmune diseases, with a slightly higher risk of allergic conditions, she said.5
A long-term study of neuropsychological development in 40 children born to women with SLE, anti-phospholipid syndrome or both found they all showed normal intelligence levels, with only 7% at levels considered to be bordering impairment.
Questionnaires completed by mothers have uncovered histories that include an elevated level of epilepsy—reported for four of the children—and of sleep disorders, she said.6
"These data are interesting, but all of these things are very rare and as you have seen, are not really dangerous," she said. "Children of SLE patients may carry some minor neuropsychological problems that we are not to ignore—because most of them can be overcome if we know them."
---
Thomas R. Collins is a freelance writer living in South Florida.
References