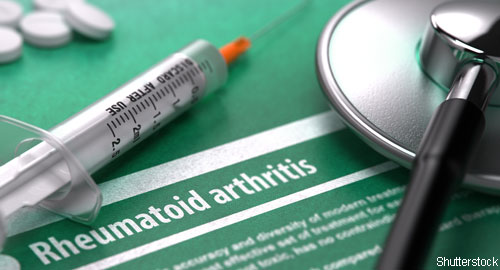 Two out of three patients living with
rheumatoid arthritis
(RA) say they feel "good enough," even though their clinical assessments indicate active disease, according to the second phase of Pfizer's global
RA survey
, the RA NarRAtive, which assessed the quality of physician–patient communication and its relationship to overall RA disease management.
1
"The results illustrate that patients often experience communication difficulties with their physicians for a variety of reasons," says RA NarRAtive Advisory Panel Co-Chair Allan Gibofsky, MD, a rheumatologist and co-director of the Inflammatory Arthritis Clinic at the Hospital for Special Surgery in New York. "This [difficulty] could be due to multiple factors, including a patient's embarrassment in raising issues, a lack of time or a disconnect between a physician's and patient's assessment of the patient's well-being. These potential communication gaps confirm the need for a joint commitment to improving dialogue focused on changing the narrative around RA management."
You Might Also Like
Also By This Author
The RA NarRAtive physician survey was conducted online in 15 countries by Harris Poll between August and October 2015, and respondents were 1,736 rheumatologists who had seen at least five patients in the previous month with moderate to severe RA.
ADVERTISEMENT
SCROLL TO CONTINUE
"As a global initiative, it was somewhat surprising to learn that communication problems are universal and not necessarily unique to the U.S.," says Dr. Gibofsky, who believes that it was important to get input from other countries because the practice of medicine is becoming more international in scope and focus.
More Takeaways
The survey's findings also showed that the majority of physicians believe that setting treatment goals (78%) and developing a disease management plan (74%) with their patients is essential in successfully managing RA. According to most physicians, people living with RA who are involved in making treatment decisions tend to be more satisfied with their treatment experience than those who are not as involved.
ADVERTISEMENT
SCROLL TO CONTINUE
But results from the first phase of the patient survey, which included input from 3,900 people living with RA, revealed that few patients have shared their treatment goals with their physician or even realize they have a disease management plan in place.
"Physicians are likely discussing both goals and disease management plans with their patients; however, patients may not [understand the plans] due to differences in the language or terminology physicians use when discussing these measures," Dr. Gibofsky says.
Further, physician findings provided insight into similarities and differences in physician and patient perspectives. More than half of patients reported feeling uncomfortable raising concerns and fears with their physician, and many worried that if they asked too many questions, it would negatively affect their quality of care.