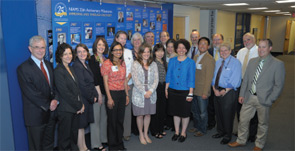 Explore This Issue
July 2012
Also By This Author
Participants of a roundtable discussion at the NIH campus.
Since 2008, the ACR Research and Education Foundation (REF) has been working with the National Institute of Arthritis and Musculoskeletal Diseases (NIAMS) to lead discussions about how to best develop the careers of physician-scientists involved in rheumatic disease research.
ADVERTISEMENT
SCROLL TO CONTINUE
On May 15, 2012, the REF, NIAMS, and the Arthritis Foundation (AF) coorganized a Rheumatology Training and Career Development Roundtable Discussion, evaluating the effectiveness of funding mechanisms used to support junior investigators. A similar roundtable meeting was held in 2008, after which the REF introduced a new portfolio of awards focused specifically on developing the rheumatology career, leading up to funding of the first National Institutes of Health (NIH) K-series award.
The goal of this meeting was to ensure that the funding programs currently offered by the NIH, the REF, and the AF are successful in fostering the development of productive independent rheumatology researchers.
ADVERTISEMENT
SCROLL TO CONTINUE
"These are start-up grants that we hope will lead to larger NIH funding," says Mary Wheatley, senior director of research and training at the REF. "We're looking for ways to best support junior investigators in the current funding climate."
NIAMS Director Stephen I. Katz, MD, PhD, expressed gratitude to the assembled parties for their continued commitment to research and training in the rheumatic diseases. Participants then reviewed the success metrics for targeted funding at this critical stage to see whether they had, indeed, led to larger NIH grants, helping to develop the careers of rheumatology researchers.
At the meeting, NIAMS staff presented an analysis of the 2004–2005 junior investigator cohort, including investigators funded by the AF, the REF, and the NIH. The review focused on this cohort because these investigators should now be close to receipt of their first NIH R01 grants. The roundtable review showed that 21 REF investigators from this cohort have applied for NIH grants since then, with 17 receiving funding—a success rate of nearly 81%.
ADVERTISEMENT
SCROLL TO CONTINUE
Overall, researchers who received funding through career development awards provided by the NIH, the AF, and the REF went on to receive K- or R-series grants from the NIH about 70% of the time.
"The positive tenor and enthusiasm the participants brought to this meeting are a reflection of the impact of private funding for rheumatic disease research and career development, and the interest that these efforts have generated within the NIH," says REF President David Daikh, MD, PhD. "This is also a good example of the positive role that the REF can and does play in fostering collaboration with the NIH."