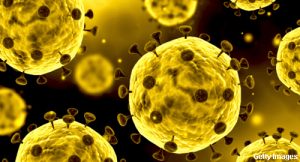 ACR CONVERGENCE 2021—So many elements of the past two years have been, to put it mildly, unusual given the effects of the COVID-19 pandemic. Perhaps equally strange have been the discoveries related to understanding how the SARS-CoV-2 virus functions, what leads to mild or severe disease in different patients and what implications these findings hold for the field of rheumatology. Mariana Kaplan, MD, chief of the Systemic Autoimmunity Branch of the National Institute of Arthritis and Musculoskeletal and Skin Diseases (NIAMS), National Institutes of Medicine (NIH), Bethesda, Md., moderated Day 2 of the Basic and Clinical Research Conference focused on Rheumatology Complications of Emerging Viral Infections/SARS-CoV-2.
Also By This Author
Pathophysiology of COVID-19
The featured speaker in the session was Dennis McGonagle, FRCPI, PhD, head of experimental rheumatology at the Leeds Institute of Rheumatic and Musculoskeletal Medicine, St. James Hospital, University of Leeds, U.K. Dr. McGonagle discussed the distinctive form of pulmonary immunovascular thrombosis that is seen with COVID-19 disease and how the pathophysiology of disease has come to be understood over time.
ADVERTISEMENT
SCROLL TO CONTINUE
He pointed first to a letter to the editor published in The Lancet on March 16, 2020, that has since been cited over 6,000 times. In the correspondence, Mehta and colleagues noted how treatments for COVID-19 had been focused on antiviral therapy and supportive care, but that hyperinflammation seems to play a large role in severe disease and, thus, immunosuppression should be considered as part of the treatment regimen for this cytokine storm-like entity.1
Indeed, Mehta et al. referenced a retrospective, multi-center study of 150 confirmed COVID-19 cases in Wuhan, China, that indicated how elevated ferritin and interleukin-6 (IL-6) levels were predictors of increased mortality, thereby implying that virally driven hyperinflammation may significantly contribute to the risk of death.2 This hypothesis subsequently led to the use of corticosteroids and IL-6 inhibition with medications like tocilizumab as part of the treatment of COVID-19.
ADVERTISEMENT
SCROLL TO CONTINUE
Dr. McGonagle acknowledged that entities like cytokine release syndrome in macrophage activation syndrome (MAS) or in cases of chimeric antigen receptor (CAR)-T cell therapy appear similar to the forms of organ failure seen with severe COVID-19, but he identified discrepancies in the lab results seen in these conditions. For instance, severe cytokine storm will generally demonstrate IL-6 levels up to 10,000 pg/ml and ferritin levels close to 100,000 μg/L. In studies looking at these biomarkers in COVID-19, levels appear much lower, with IL-6 levels in severe COVID-19 disease reaching only 10% of the usual elevation seen with cytokine release syndrome associated with CAR-T cell therapy.