You Might Also Like
Explore This Issue
September 2013
Also By This Author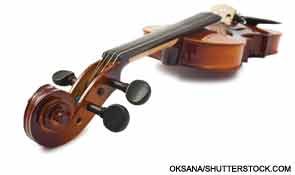 ADVERTISEMENT
SCROLL TO CONTINUE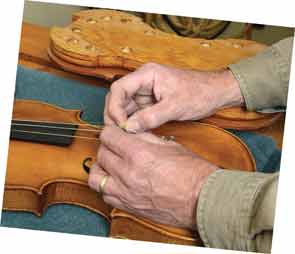 Dr. Higgs stringing a violin.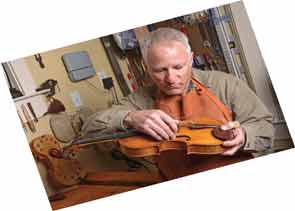 Dr. Higgs in his workshop.
ADVERTISEMENT
SCROLL TO CONTINUE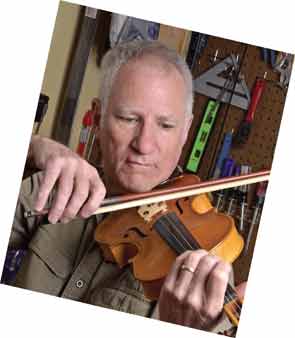 Dr. Higgs playing one of his violins.
New Department Looks Beyond Rheumatology
The Rheumatologist's new department, "Rheum After 5," highlights interesting and unique hobbies that rheumatologists and health professionals pursue after the workday is over. If you know someone who should be featured in "Rheum After 5," send your suggestion to dantoline@wiley.com.
Jay Higgs, MD, has a lofty retirement goal that doesn't involve medicine, money, or politics: some day, he hopes to join the prestigious ranks of the best violin makers in the country.
ADVERTISEMENT
SCROLL TO CONTINUE
Dr. Higgs, currently a rheumatologist in the Air Force and also director of the rheumatology fellowship program at the San Antonio Military Health System in San Antonio, Texas, learned about violins from his grandfather, who made them as a hobby. Over the past 30 years, Dr. Higgs has hand crafted seven violins. He would enjoy nothing more than to have his instruments played by master violinists and appreciated by generations to come.
From a Chance Find in Medical School
As an adult, he entered the trade almost by accident. Or maybe it was destiny. During medical school, he often studied in the basement of the music library because it was quiet. One day, he started browsing the books in the stacks and discovered one about making violins. He read it from cover to cover, knowing that he would soon follow in his grandfather's footsteps.
He started making his first violin during his fellowship in the mid-1980s. He used the handmade tools he inherited from his grandfather and applied the woodworking skills he developed in his spare time as a cabinet maker. He finished the violin nearly two years later, after moving to San Antonio.
"I found it really relaxing and something that took me away from everything else in the world," he says, explaining that this hobby combines craftsmanship, art, history, and even the science of acoustics. "I just enjoy every aspect of it."
He also plays the violin, although not very well, by his own admission. Still, he doesn't let that discourage him. When his son and daughter were growing up, he made fractional-sized instruments for them, passing along his love of violins and violin music. His son has almost completed building his first violin, making him a third-generation violin maker.
Years ago, his musical family served as the orchestra for their church. He and his children played the violin while his wife played the flute. More recently, Dr. Higgs also performed at several weddings.