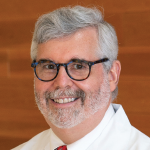 When Jonathan Kay, MD, attends a medical lecture, he does more than just listen to the speakers or watch their presentations. He typically whips out his pen and draws a caricature of someone in the room.
Dr. Kay is a professor of medicine and holds the Timothy S. and Elaine L. Peterson Chair in Rheumatology at the University of Massachusetts (UMass) Chan Medical School, Worcester, where he directs clinical research in the Division of Rheumatology. He is also a physician at UMass Memorial Medical Center, Worcester.
ADVERTISEMENT
SCROLL TO CONTINUE
Over the years, Dr. Kay has created hundreds of caricatures of family, friends and colleagues. Perhaps his most famous subject was the attending physician at the National Institutes of Health—Anthony Fauci, MD—in 1983, when Dr. Kay was a fourth-year medical student doing a rotation in rheumatology and clinical immunology. (Shhh! Dr. Fauci, now director of the National Institute of Allergy and Infectious Diseases, doesn't know about this one.)
"Colleagues have suggested that I put together a collection of my caricatures or that I set up a caricature booth at the ACR annual meeting to raise money for the Rheumatology Research Foundation," Dr. Kay says. "But I don't think I'm good enough. I just do this for fun.
ADVERTISEMENT
SCROLL TO CONTINUE
"When drawing pictures of my friends, I focus on their face in the context of their personality and integrate these into a two-dimensional representation of their image."
Parents' Influence
By the time he graduated high school, he had achieved enough proficiency in playing this large woodwind instrument that he debated whether to attend a music conservatory or university. But he didn't want to limit his educational experiences, and really liked biology and chemistry so he chose the latter.
ADVERTISEMENT
SCROLL TO CONTINUE
The summer before he left for college, while working as a dishwasher at a delicatessen in his hometown of Brookline, Mass., Jon filled in for the vacationing dishwasher in the clinical immunology lab at Tufts New England Medical Center, Boston, where his mother worked as a lab technician.