In honor of Rheumatic Disease Awareness Month, the ACR released a new Rheumatic Disease Report Card as part of its Simple Tasks public awareness campaign. The report card seeks to help answer the question, "How easy is it to live with rheumatic disease in my state?"
First released in 2018, the report card has been updated to provide new scores to see how much states have improved. It considers such factors as access to care, affordability, and activity and lifestyle elements when providing each state with a score and corresponding letter grade.
ADVERTISEMENT
SCROLL TO CONTINUE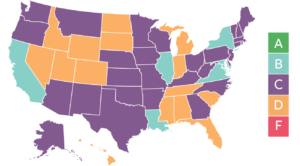 The access category considers number of residents per rheumatologist, the percentage of residents who lack insurance coverage, the strength of the state's laws to limit prior authorization and the strength of the state's legislation to limit insurers' use of step therapy.
The affordability category awards states points on the basis of the presence of state legislation limiting insurer use of specialty tiers, the strength of the state's laws promoting pharmacy benefit manager (PBM) transparency and the presence of state legislation preventing insurers from implementing copay accumulators.
ADVERTISEMENT
SCROLL TO CONTINUE
The activity category looks at such factors as the prevalence of arthritis-attributable activity limitation among adults, the percentage of adults who are physically inactive and the prevalence of Centers for Disease Control and Prevention (CDC) funded arthritis intervention programs.
Each state received a numerical score and a letter grade in each area. The potential total score was 150 points. States then received an overall letter grade to reflect their score.
Which States Made the Grade?
No states received an overall grade of A. However, five states achieved a B, the highest grades awarded:
ADVERTISEMENT
SCROLL TO CONTINUE
New York (a score of 111 out of 150);
Virginia (106/150);
Maryland (105/150);
California (93/150); and
Illinois (92/150).
Most states received an overall grade of C or D (see map, above).
The state with the highest score in the 2018 report card was Maryland, followed by New York, Vermont, Colorado and Connecticut.
This year's report card recognizes Oklahoma as the most improved state … . Its score went up by 31 points, & it moved from the lowest scoring state [in 2018] to a ranking of 20th place in 2022.
This year's top scorer, New York, earned an A for access and was the only state to do so in that category. "The A in the access category was due to the strength of its state legislation to limit insurer use of prior authorization and step therapy, as well as its low ratio of people per rheumatologist," says Jocelyn Givens, director of public relations and communications at the ACR. New York received a B for affordability and activity.