You Might Also Like
Explore This Issue
May 2014
Also By This Author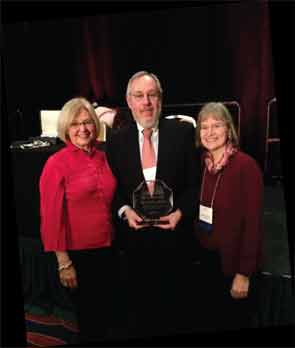 Dr. Hochberg receiving the OARSI Lifetime Achievement Award in 2013, with Drs. Linda Sandell and Virginia Kraus.
ADVERTISEMENT
SCROLL TO CONTINUE
In 1977, during the second year of his two-year postdoctoral fellowship in the Connective Tissue Division, Department of Medicine at The Johns Hopkins Hospital, Baltimore, Marc C. Hochberg, MD, MPH, sought out his mentor, the late Lawrence E. Shulman, MD, PhD, to discuss his career goals. Dr. Shulman was about to depart from Johns Hopkins to become the first director of the (former) Arthritis and Rheumatism Branch of the National Institute of Arthritis, Diabetes, Digestive and Kidney Diseases (NIADDK), now the National Institute of Diabetes and Digestive and Kidney Diseases. During their long talk, recalls Dr. Hochberg, "Dr. Shulman pointed me in the direction of epidemiology and public health, identifying [it] as an underserved and understudied area in rheumatology."
Taking Dr. Shulman's advice to heart, Dr. Hochberg approached the head of the Connective Tissue Division, the late Mary Betty Stevens, MD, who had offered him a faculty position at Johns Hopkins upon completion of his fellowship. Dr. Stevens made it possible for Dr. Hochberg to spend half of his time during his first two years on faculty as a clinical instructor pursuing a graduate degree in public health. After receiving his master's in public health, Dr. Hochberg was then promoted to assistant professor and remained at Johns Hopkins until 1991, adding an appointment in the School of Public Health (Epidemiology) in 1979.
ADVERTISEMENT
SCROLL TO CONTINUE
Currently professor of medicine and epidemiology and public health at the University of Maryland School of Medicine, Baltimore, Dr. Hochberg had been Dr. Shulman's last fellow before his departure for the NIADDK. And since he received that seminal career advice from his former mentor, Dr. Hochberg has arguably become one of the leading epidemiologists in rheumatology, says Lee S. Simon, MD, principal, SDG LLC of Cambridge, Mass., who has known Dr. Hochberg since he was a medical student.
"I've known Marc a long time, have watched his career and collaborated with him in the context of osteoarthritis work, as well as therapeutic outcomes. I think Marc is probably the most accomplished health services researcher in our rather narrow therapeutic field," Dr. Simon commented.
ADVERTISEMENT
SCROLL TO CONTINUE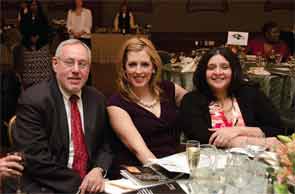 Dr. Hochberg, with Drs. Elizabeth Smelter and Bansari Gujar, at the 2013 Arthritis Foundation MidAtlantic Region dinner where Dr. Hochberg received the Arthur Modell Presidents Award.
Path to Rheumatology
By the time he was in high school, Hochberg was well on track to pursue a medical career. He grew up in New York City and attended the Bronx High School of Science. He says, "I was focused on going into medicine and pursuing a career in the biomedical sciences." While an undergraduate at Franklin & Marshall College in Lancaster, Pa., he spent his senior year doing research in physical chemistry; this work resulted in his first peer-reviewed scientific publication.