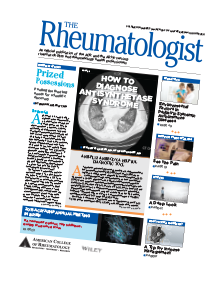 I read with pleasure the March 2017 Rheuminations (written by Simon M. Helfgott, MD), but wanted to make a small emendation. There is one other rheumatologist–Nobel Laureate besides Philip Hench. Baruch (Barry) Blumberg (1925–2011) was a bona fide rheumatologist who trained in the mid-1950s with the renowned Charles Ragan at Columbia-Presbyterian Medical Center in New York City. Dr. Blumberg published important work on hyaluronic acid and the synovial fluid, as well as a classic medicine review of ankylosing spondylitis with Dr. Ragan. He was awarded the Nobel Prize in Physiology or Medicine in 1976 for his pioneering work leading to the identification of the hepatitis B virus and the subsequent development of a vaccine.
Philip L. Cohen, MD
Professor of Medicine
Temple University School of Medicine
Physician Editor Simon Helfgott, MD, replies: Thanks for bringing this up. I had forgotten this interesting fact.