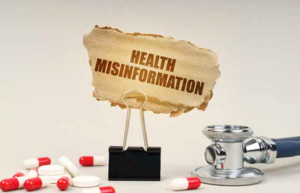 The Surgeon General has identified medical misinformation as a major public health threat, and many professional societies, including the American Medical Association, have called for action to combat it," writes Richard J. Baron, MD, American Board of Internal Medicine (ABIM) chief executive officer, and Yul D. Ejnes, MD, ABIM's board chair, in The New England Journal of Medicine (NEJM).1 In the article, "Physicians Spreading Misinformation on Social Media—Do Right and Wrong Answers Still Exist in Medicine?" the authors note that certifying boards are well suited to help address the problem of false information on social media.
Assassination of the Trusted Voice
Medical misinformation is a societal problem and one that is affecting rheumatologists. The COVID-19 pandemic has amplified the problem, but it existed before COVID-19. The big deal here is the assassination of the trusted voice: People who folks used to trust are no longer the people they trust, and the public is obtaining their information from less reliable sources, often inaccurate sources, such as social media.2 This has created a challenge in the delivery of good medical care.
ADVERTISEMENT
SCROLL TO CONTINUE
As rheumatologists, we are uniquely placed to help because we have longstanding, trusting relationships with our patients. In Alabama, where the vaccination rate for COVID-19 is lower than in many other parts of the country, when I advise my patients—who I have been taking care of for many years—that they should get vaccinated, even some of the patients who are vaccine resistant will often strongly consider getting vaccinated. That is but one example of how I think we have sway with our patients, as well as the public at large.
An outspoken, small minority of doctors has been espousing flagrant misinformation. Thankfully, we are not aware of any rheumatologists in this category, but we at the ACR are very concerned about this issue—one the ABIM has embraced as a priority area.
ADVERTISEMENT
SCROLL TO CONTINUE
As specialists, we have a pretty good idea of what we know. We are constantly reevaluating to ensure we are "getting it right" as well as we can, but we generally know when things just are not true. An example of medical misinformation is given in the NEJM article: "Vaccines don't prevent COVID deaths or hospitalizations." This statement is flagrantly untrue. We try our best to rise to the highest level of evidence that we have, and we must be united with our colleagues in organized medicine to find ways to point out blatant lies coming from physicians.