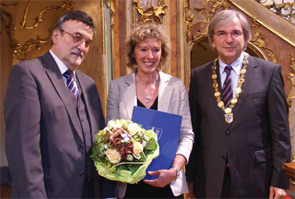 Dr. van der Heijde (center) receives her prize from Wolfgang Nickel (left) and Helmut Müller (right) at the award ceremony in Germany.
Two rheumatologists were awarded the 2011 Carol Nachman Prize for Rheumatology this June in Wiesbaden, Germany. The highest international honor for rheumatology-related research, the prestigious award acknowledges excellence and innovation in clinical, therapeutic, and experimental studies in rheumatology.
You Might Also Like
Explore This Issue
September 2011
Also By This Author
Tools to Measure Disease Activity
Award recipient Désirée van der Heijde, MD, PhD, professor of rheumatology at Leiden University Medical Center in Leiden, Netherlands, was recognized for outstanding clinical and scientific research that focused on disease-related outcomes for inflammatory rheumatic diseases of rheumatoid arthritis (RA) and spondyloarthritis. In announcing their selection, trustees of the Carol Nachman Prize noted that Dr. van der Heijde's methodical work on disease outcomes has significantly influenced large clinical studies in recent years.
ADVERTISEMENT
SCROLL TO CONTINUE
Research undertaken by Dr. van der Heijde was instrumental in the development of objective measurements for disease activity and disease related damage. Her work also led to the creation of standards to assess patient parameters of pain and quality of life. Other accomplishments include the modification of the Sharp method for quantifying damage on radiographs of hands and feet, a validated scoring method now used in clinical drug trials and other RA studies.
Among Dr. van der Heijde's early significant contributions was her work on the development of the Disease Activity Score (DAS) to assess disease in patients with RA. Developed during research for her PhD in the early 90s, the DAS index was used as the basis for the creation of "DAS28," a standard RA index that is used in clinical trials and medical practice to measure the activity of rheumatic disease.
ADVERTISEMENT
SCROLL TO CONTINUE
"These are really well-validated measures," says Dr. van der Heijde, when asked to explain the relevance of her work. "When there is consistency in use across clinical trials and you can better compare results, you better understand what you find in one trial compared to another trial."
She notes that, "when you have validated reliable measures, that also means that you need fewer patients to test a new drug, for example."
Dr. van der Heijde serves as a principal investigator for drug trials and lends her expertise to design of clinical trials with a focus on the selection of outcome measures, evaluation of imaging, and analysis and interpretation of imaging data. Her future research plans involve the development of new criteria in the field of spondyloarthritis and gathering additional information related to validation of magnetic resonance imaging, or MRI, as part of a diagnostic process.