You Might Also Like
Explore This Issue
August 2007
Also By This Author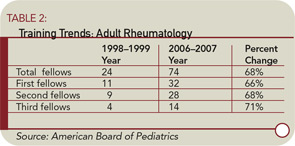 click for large version
Insight from Young Investigators
What can longtime rheumatologists do to continue to draw bright young doctors to the specialty? New rheumatologists share similar reasons for making this their life's work, and two stand out: great scientific cases that intrigued them and wonderful mentors. Dr. Franchin says he came to rheumatology by coincidence: "My original career path was infectious diseases, but during the first year of my residency I had a wonderful mentor and met several rheumatologists who were doing research. The science was new and promising and very interesting to me."
ADVERTISEMENT
SCROLL TO CONTINUE
Dr. Park encourages those in leadership positions in medical schools to "make rheumatology more enticing by using case studies." During medical school she took an elective course in rheumatology that piqued her interest. "We need to attract candidates to rheumatology early in medical school," she contends.
Randy Cron, MD, a pediatric rheumatologist at Children's Hospital of Philadelphia, had a doctoral degree in immunology when he decided to apply for a pediatric rheumatology fellowship. "It really gives me the opportunity to champion the evaluation and treatment of ailments that make children the victims," he says. Dr. Cron completed his residency in 1997. Science has continued to improve since then, he notes, making his specialty very rewarding.
ADVERTISEMENT
SCROLL TO CONTINUE
Pediatric rheumatology is a relatively new specialty, however, says Dr. Cron, and "one-third of the medical schools in the country do not offer pediatric rheumatology in the curriculum." The number of role models is limited as well, he notes, and even among the practicing pediatric rheumatologists, as many as half are understaffed and overworked. "That doesn't make the field attractive," says Dr. Cron.
Pediatric rheumatology work settings offer additional challenges in recruitment and retention of candidates. "Pediatric rheumatologists must work in an academic medical center and do research," says Dr. Cron. "Because we work in academia rather than community practice, we also make less money."
New rheumatologists share similar reasons for making this their life's work, and two stand out: great scientific cases that intrigued them and wonderful mentors.
Rheumatology's Strengths Draw Young Docs
Although money is an issue for young rheumatologists, those who have chosen this specialty say it is not the most important issue. Dr. Fitzgerald says his survey of current fellows shows many rheumatologists are torn between working in an academic medical center at the cutting edge of medical research and working in a community practice, where the perception is that working hours are shorter and salaries are higher.