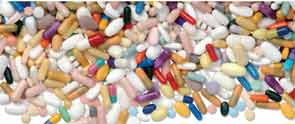 Pipeline and Approvals
Apremilast, a novel oral PDE4 inhibitor, significantly improved signs and symptoms of moderate-to-severe chronic plaque psoriasis in Phase III clinical trials.1 Apremilast demonstrated significance at Week 16 in the major secondary endpoints of Physician Global Assessment as well as in assessments of difficult-to-treat areas. The primary endpoint of a 75% reduction in symptoms was met by 33% of active-treated patients, compared to 5% of placebo-treated patients, at Week 16. The drug's overall safety and tolerability profile was consistent with results from previously reported Phase III psoriatic arthritis trials. No cases of lymphoma or tuberculosis were noted, nor was there an increase in cardiovascular events or serious opportunistic infections. Apremilast is currently also in Phase III clinical trials for psoriatic arthritis and other chronic inflammatory conditions. The manufacturer expects to file for approval in the second half of this year.
As of February 7, 2013, Lilly has discontinued all of its rheumatoid arthritis (RA) Phase II and Phase III (FLEX-M and FLEX-V) trials of Tabalumab (LY2127399) due to lack of efficacy. Tabalumab is a fully human immunoglobulin G subclass 4 monoclonal antibody that inhibits B-cell activating factor (BAFF) protein.2 The agent remains in Phase III trials for systemic lupus erythematosus (ILLUMINATE trials) and Phase II trials for multiple myeloma.
Prescription Drug Abuse
It is well known that, in the United States, prescription drug abuse is the fastest-growing drug problem, and is often considered an "epidemic."3 Prescription drugs are now known to cause more overdose deaths than "street drugs," with an estimated seven million Americans regularly using these drugs for nonmedical purposes. This abuse has led to nearly 40,000 deaths, costing our healthcare system almost $200 billion annually. According to the U.S. Substance Abuse and Mental Health Services Administration, nearly 23 million Americans have misused prescription pain relievers since 2002, while these agents rank only behind marijuana as a drug of abuse in the U.S.4
The increase in unintentional drug overdose deaths in recent years has been driven by increased use of opioids. Oxycodone and methadone products account for roughly two-thirds of all drug overdose deaths. Strategies have been implemented to monitor and curb this growing problem including the implementation of state-run controlled substance prescription monitoring programs (PMPs). These were borne out of President Barack Obama's National Drug Control Policy, "Epidemic: Responding to America's Prescription Drug Abuse Crisis," which includes, among other components, "a functional prescription drug monitoring program in all 50 states."5 As of February 2013, 48 states and one territory had operational PMPs, or had passed enacting legislation.6 Most PMPs allow any prescriber in the respective state or territory to register and obtain any patient's controlled substance prescription utilization. Before these programs were implemented, patients could more easily "doctor shop." In addition, anyone with prescription drug coverage through health insurance or through a pharmacy benefits manager could regularly fill prescriptions for narcotics and then pay themselves for other prescriptions, thus going undetected as receiving more medication than needed, yet appearing to be medication adherent and not an over-user.