PHILADELPHIA—A 26-year-old woman with Class IV lupus nephritis (LN) who has fallen out of care and been off all medications for one year is now pregnant. A 26-year-old woman with erosive, joint deforming juvenile idiopathic arthritis (JIA) finally in remission on tocilizumab is now pregnant. What would you do?
You Might Also Like
Explore This Issue
January 2023
Also By This Author
For situations like these, no clear answers are evident. Many medications aren't approved by the U.S. Food & Drug Administration (FDA) for use during pregnancy and/or have limited pregnancy safety data available for review. But in the real world, pregnancy happens, and it falls on us, the treating rheumatologists, to facilitate shared decision making and treatment selection.
At ACR Convergence 2022, Megan E.B. Clowse, MD, MPH, associate professor of medicine, Division of Rheumatology and Immunology, Duke University, Durham, N.C., shared case-based approaches for real life situations just like these. "Today, we're heading off the beaten track," she said. "These medications aren't currently recommended for use in the ACR's reproductive health guideline or guidelines from Europe.1 They aren't all FDA approved for the diseases we will be discussing, and drug labeling recommends against use in pregnancy for most of them. I'm not going to tell you the answers because I don't know them. Rather, the goal today is to have a conversation with the audience."
Lupus Nephritis & Pregnancy
Case: A 26-year-old woman with Class IV LN, initially treated with mycophenolate mofetil and prednisone, has fallen out of care and been off medications for one year. She's now eight weeks pregnant. She feels that her systemic lupus erythematosus is in remission and denies symptoms. Her vitals and physical exam are normal, but laboratory studies reveal 2.8 g of proteinuria with pyuria, hypocomplementemia and elevated anti-double-stranded DNA titers. Serum creatinine is normal.
ADVERTISEMENT
SCROLL TO CONTINUE
"What are her chances of delivering a healthy baby?" Dr. Clowse asked the audience. To help answer this question, she discussed a meta-analysis of three prospective lupus pregnancy registries in North America that examined pregnancy outcomes in women with active LN, defined as greater than 0.5 g/24 h proteinuria in the first 20 weeks of gestation. Dr. Clowse said, "What we found was a pregnancy loss rate of 39%, a preterm delivery for live births rate of 47% and a preeclampsia rate of 29%. Moreover, only 29% of these women [with active LN] had a live, term infant without preeclampsia."2
Current guidelines rely on mycophenolate mofetil and cyclophosphamide to treat active LN. However, mycophenolate mofetil is contraindicated in pregnancy, and cyclophosphamide should only be considered in the second or third trimester (based on data from oncology registries). Thus, pregnancy compatible treatment options for LN are limited to azathioprine, tacrolimus and cyclosporine. However, Dr. Clowse noted, "I'm always disappointed in them because they just don't seem to work."
As for prednisone, Dr. Clowse said, "I typically avoid prednisone in pregnancy, but not in active LN. I use a fair quantity of prednisone in these patients [because] it's the main thing that works in terms of available drugs." She took care to note that prednisone is not without risks. It's unlikely to cause birth defects or pregnancy loss, but it increases the risk of hypertension, diabetes and weight gain. In patients with rheumatoid arthritis, prednisone has also been shown to increase the risk of preterm delivery.3
ADVERTISEMENT
SCROLL TO CONTINUE
Biologics & Pregnancy
Most biologics are immunoglobulin G1 antibodies, which cross the placenta more than all other antibody isotypes. However, levels of transfer vary over the course of pregnancy.4 Dr. Clowse explained, "There doesn't appear to be any first trimester transfer. In the second trimester, there's some limited exposure. The third trimester is really when it ramps up. Mom is dumping most of her antibodies close to delivery so that baby has something of an immune system, and then the baby holds on to them. So if we were to take the last dose away, maybe Mom's level wouldn't go up as high, and baby would get less."
Braced with this knowledge, Dr. Clowse turned to rituximab as a potential treatment option. "Given high biologic transfer in the third trimester, it's likely the baby would have no B cells at delivery and probably not for a long time thereafter. One can guess that this might result in vaccine inefficacy in infants aged six to 12 months and increased infection risk," she said.
Rituximab could be valuable in challenging LN cases like this one. Data to support the use of rituximab in LN show mixed results.5 But Dr. Clowse noted, "In my experience, these are patients who don't like taking medicines, and now that they're pregnant they really don't like taking medicines. So convincing them to take medications at all—let alone all the time—is hard. That, to be honest, is why I'm moving toward rituximab more often in these situations. Then I at least have some drug in them." She has given it early in pregnancy but wouldn't rule out using it later on.
As for belimumab, speed of efficacy is a concern. Dr. Clowse explained, "When combined with mycophenolate mofetil or cyclophosphamide followed by azathioprine, there was improved renal response with belimumab after two years. At six months, the difference was only modest, and we're not pregnant for two years. I'm not sure it's fast enough."6 Monthly dosing also makes belimumab less attractive for patients in whom adherence is a concern.
Voclosporin is a calcineurin inhibitor similar to tacrolimus and cyclosporine. It's been shown to rapidly decrease proteinuria, making it an attractive option for a nine-month pregnancy.7 The downside is a high pill burden of six tablets per day. Additionally, the tablet has some ethanol in it, prompting "loud warnings" from the FDA and drug companies that recommend against use in pregnancy because "there's no safe level of alcohol in pregnancy."
However, Dr. Clowse shared some important clarifications. "A daily dose of voclosporin [six tablets] is the equivalent of one-half teaspoon of beer per day (about one beer every 10 weeks)," she said. "Cyclosporine has nearly the same amount of alcohol in it, and the package insert advises this fact simply be taken into account for patients pregnant or breastfeeding. Compare this to the insert for voclosporin, which advocates complete avoidance of the drug in pregnancy in scary language."
Inflammatory Arthritis & Pregnancy
Case: A 26-year-old woman with severe erosive juvenile idiopathic arthritis (JIA) is now eight weeks pregnant. She is finally in remission on tocilizumab monotherapy, which has truly been life-changing for her.
When it comes to severe inflammatory arthritis in pregnancy, data show that 63% of patients who stop a tumor necrosis factor inhibitor at conception will flare, as opposed to only 20% of those who continue the drug.8 As for risk to the fetus, active inflammatory arthritis doesn't increase the risk of pregnancy loss. "The risk of preterm birth is increased, but not by that much, in my experience. It's not like lupus," Dr. Clowse said.9
So should we continue or stop tocilizumab? Dr. Clowse said, "Pregnancy may improve arthritis in some patients, but not as much as modern medications. So in my experience if we stop her drug, she's going to flare pretty significantly."
Not a lot of data is available specific to tocilizumab and pregnancy. However, Dr. Clowse cited two case reports in which tocilizumab placental transfer was found to be lower than might be expected.10,11 "I don't really love basing everything off of two pregnancies, but I think it's interesting, thought-provoking information."
Handouts to help counsel patients on the risks of inflammatory arthritis, biologics and pregnancy are available.11
Think on These Things
Given Dr. Clowse's goal of a conversation with the audience, we invite you to consider what you would do in these cases.
---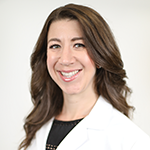 Samantha C. Shapiro, MD, is the executive editor of Harrison's Principles of Internal Medicine. As a clinician educator, she practices telerheumatology and writes for both medical and lay audiences.
References
Sammaritano LR, Bermas BL, Chakravarty EE, et al. 2020 American College of Rheumatology guideline for the management of reproductive health in rheumatic and musculoskeletal diseases. Arthritis Rheumatol. 2020 Apr;72(4):529–556.
Lucas A, Eudy AM, Gladman D, et al. The association of lupus nephritis with adverse pregnancy outcomes among women with lupus in North America. Lupus. 2022 Oct;31(11):1401–1407.
Palmsten K, Rolland M, Hebert MF, et al. Patterns of prednisone use during pregnancy in women with rheumatoid arthritis: Daily and cumulative dose. Pharmacoepidemiol Drug Saf. 2018 Apr;27(4):430–438.
4. Duke Repro-Rheum. Inflammatory arthritis and pregnancy. https://reprorheum.duke.edu/files/2022/11/Arthritis-Pregnancy-Discussion-Guide-Final-Nov-2022.pdf.
Stolyar L, Lahita RG, Panush RS. Rituximab use as induction therapy for lupus nephritis: A systematic review. Lupus. 2020 Jul;29(8):892–912.
Furie R, Rovin BH, Houssiau F, et al. Two-year, randomized, controlled trial of belimumab in lupus nephritis. N Engl J Med. 2020 Sep 17;383(12):1117–1128.
Rovin BH, Teng YKO, Ginzler EM, et al. Efficacy and safety of voclosporin versus placebo for lupus nephritis (AURORA 1): A double-blind, randomised, multicentre, placebo-controlled, phase 3 trial. Lancet. 2021 May 29;397(10289):2070–2080.
Haase I, Spaethling-Mestekemper S, Brinks R, et al. ACR. Pregnancy in rheumatoid arthritis: Continue, reduce or stop TNF inhibitors? A prospective observational study. Meeting Abstract #2279. 2019.
Smith CJF, Förger F, Bandoli G, Chambers CD. Factors associated with preterm delivery among women with rheumatoid arthritis and women with juvenile idiopathic arthritis. Arthritis Care Res (Hoboken). 2019 Aug;71(8):1019–1027.
Moriyama M, Wada Y, Minamoto T, et al. Unexpectedly lower proportion of placental transferred tocilizumab relative to whole immunoglobulin G: A case report. Scand J Rheumatol. 2020 Mar;49(2):165–166.
Saito J, Yakuwa N, Kaneko K, et al. Tocilizumab during pregnancy and lactation: Drug levels in maternal serum, cord blood, breast milk and infant serum. Rheumatology (Oxford). 2019 Aug 1;58(8):1505–1507.