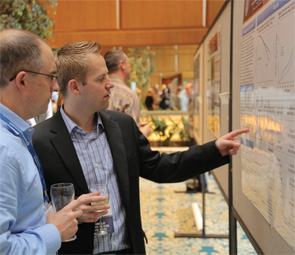 Jeffrey Sparks, MD, MMSc, discusses his poster with Tony Aliprantis, MD, PhD, of Brigham and Women's Hospital, during the Friday night poster reception.
Investigators presented their latest findings, while emerging researchers gleaned valuable advice
ADVERTISEMENT
SCROLL TO CONTINUE
If distributing close to $14 million in annual grant funding to rheumatology researchers is planting hundreds of seeds, what is the harvest? For David R. Karp, MD, PhD, current president of the Rheumatology Research Foundation, it's a world full of thriving rheumatology research and better treatments for patients with rheumatic diseases. The results gained from years of support for innovative disease studies are easy to see, Dr. Karp said. He pointed to a room filled with established rheumatology researchers gathered to present groundbreaking findings that will lead to better treatments for people with rheumatoid arthritis (RA) and similar inflammatory diseases.
"The product of rheumatology research is you," Dr. Karp told attendees of the Foundation's annual Investigators' Meeting. In just the past five years, those who have received grants through the Foundation's Targeted Research Initiative have produced more than 230 publications in peer-reviewed scientific journals. "It's the future of rheumatology, those papers you publish. Because of what you are able to do, we can go back and tell our funders, 'Look how successful our grantees have become.'"
ADVERTISEMENT
SCROLL TO CONTINUE
At the Rheumatology Research Foundation's annual Investigators' Meeting held in June at Seattle's Fairmont Olympic Hotel, presentations included new findings on the possible pathogenesis of RA, new tools for measuring RA risk, information on heart-related risks from fatty tissue inflammation and theories on blocking cells that play a role in arthritis inflammation.
First Look at Potential Breakthroughs
Scientists from top institutions offered early peeks at the eventual results of their Foundation-funded research. These multi-year projects aim to develop a better grasp of the process of inflammation in the body, how rheumatologists may one day predict who will get arthritis and even how to stop inflammation before joint damage is seen.
Several presentations focused on the role of T cells, which help the body fight diseases or foreign substances, in inflammatory arthritis. In her presentation on Th17 cells in RA, University of Pittsburgh researcher Mandy McGeachy, PhD, revealed how these cells may play a role in activating inflammation, and that in the future, this knowledge may help us predict a patient's response to biologic drugs.
In his presentation, Columbia University's Jon Giles, MD, MPH, discussed how adipose, or fat, tissue inflammation in RA may be associated with a patient's increased risk of cardiovascular disease and the possible connections between fat tissue and increased RA disease activity.
Cherubism, a rare genetic disorder causing a swollen face, offered Brigham and Women's Hospital researcher Antonios Aliprantis, MD, PhD, a way to explore how bone erosion happens in arthritis. Dr. Aliprantis discussed how he and his team studied the inflamed jaws of mice with cherubism to pinpoint the role of osteoclast cells, which break down bone, in bone erosion in other types of inflammatory arthritis.
The Foundation's Targeted Research Initiative is now in its seventh year and has funded 123 research grants, mainly focused on RA, but also on other rheumatic conditions, such as juvenile idiopathic arthritis. "The future for rheumatology and our patients is bright," Dr. Karp told the audience in Seattle. "Our work has led to new research areas and has stimulated a sense of camaraderie and collaboration amongst the arthritis researchers in this country." He added, "The Rheumatology Research Foundation has a mission, and it is very patient focused. Why do we have a patient-focused mission statement? Because we fuel the engine of academic rheumatology."