RheumPAC is excited to announce new benefits and giving levels for donors in 2020. The PAC's success is due to the support of individual contributions, and the committee wants to reward and thank its most ardent supporters in 2020.
You Might Also Like
Also By This Author
RheumPAC contributions enable the ACR to educate key legislators and their staff about the critical issues rheumatologists and rheumatology interprofessional team members face. Every dollar raised goes directly to the re-election campaigns of legislative leaders to help those who best understand our issues remain in Congress.
ADVERTISEMENT
SCROLL TO CONTINUE
Because these contributions are so important to advancing the ACR's legislative efforts, the RheumPAC Committee encourages everyone to step up to the next donation level this year. Log in to see your 2019 donation level, and make a donation today. Your continued support is greatly appreciated—every contribution helps in the fight to make our voice and the voices of our patients heard in Washington, D.C.
If you have trouble accessing the site or have any questions, contact Dan Redinger, manager of ACR advocacy & political affairs.
ADVERTISEMENT
SCROLL TO CONTINUE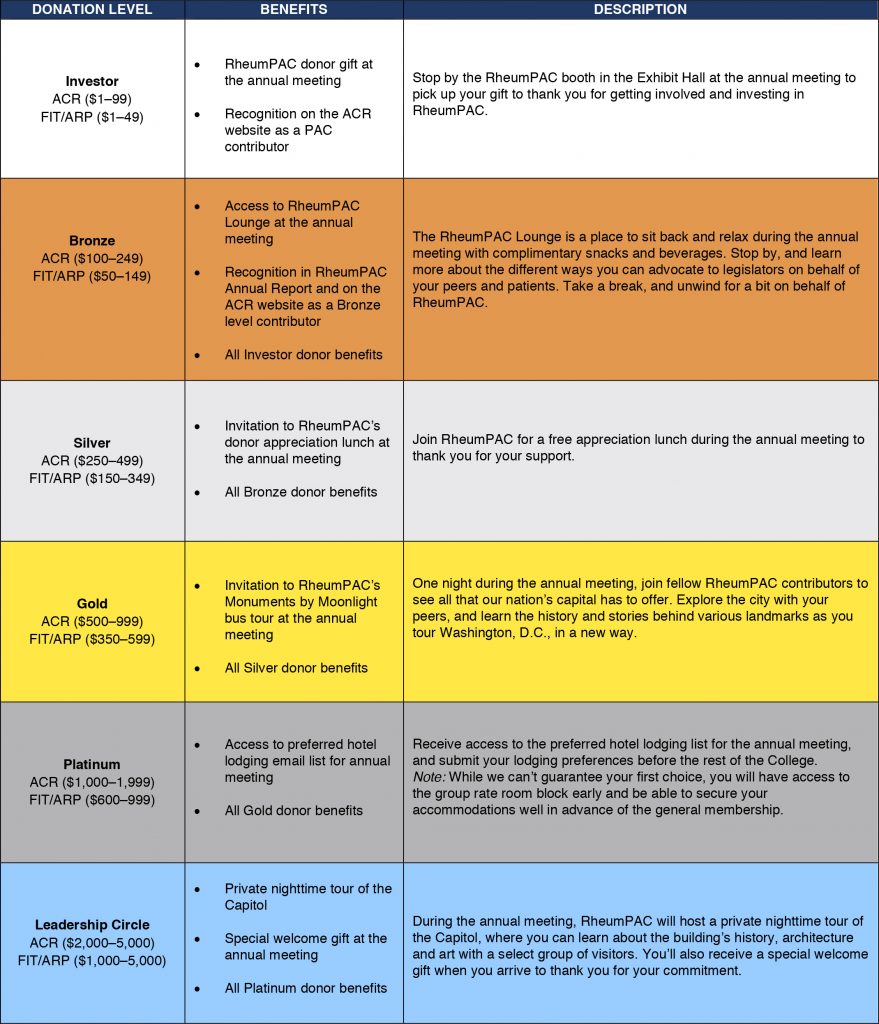 ---
Contributions to RheumPAC are used for political purposes and are not tax deductible for federal income tax purposes. All contributions to RheumPAC are voluntary and must be made with personal funds. You may refuse to contribute without reprisal. Any proposed contribution amounts are merely suggestions; you may choose to contribute more or less or not at all. RheumPAC will not favor or disadvantage anyone by reason of the amount contributed or the decision not to contribute. Federal law prohibits contributions from corporations. RheumPAC participants must be U.S. citizens or permanent resident aliens.