The magnitude of the problem of disability is staggering. Fifty-four-million Americans receive some form of Social Security, Social Security Disability Insurance (SSDI), or Supplemental Security Income (SSI) benefits. Currently, there are 10-million Americans who are considered work disabled. There are 2.5-million new applications for disability filed each year (either for SSDI or SSI). About 60% of people applying for some kind of disability benefit are diagnosed with a musculoskeletal impairment. Many of these musculoskeletal impairments affect the hands, since most occupations require adequate hand strength and dexterity (see Figure 1).
ADVERTISEMENT
SCROLL TO CONTINUE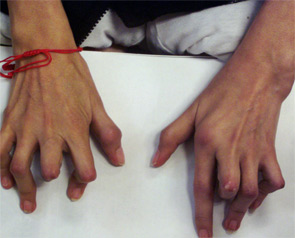 Figure 1: Rheumatoid arthritis shown in the hands of a 28-year-old computer technician no longer able to work.
The Role of the Treating Medical Team
One must recognize that leaving a job due to physical/mental impairment is often a traumatic event. Many who face loss of work status have limited financial resources and, because arthritis and musculoskeletal diseases are long-term chronic illnesses, such patients are more likely to have suffered financially as well as physically. The healthcare provider must look at the psychological and physical impact the disability is having on the patient and make recommendations accordingly.
ADVERTISEMENT
SCROLL TO CONTINUE
The loss of physical/mental function and its relation to the ability/inability of a worker to perform duties of a specific job as well as any job must be documented by objective medical evidence.
Objectives
Inform physicians/healthcare professionals of the scope of disability in the United States.
Review the two most common disability insurance programs for people who can no longer work (short-term/long-term disability and Social Security Disability/Supplemental Security Income).
Discuss the role of the physicians/healthcare professionals in assisting patients with their disability claims.
Short- and Long-Term Disability Insurance
Short-term disability (STD) insurance typically lasts six months and could be used to cover an employee who is recovering from a nonwork-related illness or injury or a surgical procedure. Most STD programs pay 66% of the employee's wages. Many workers may have accumulated sick leave pay, which would be paid at a full salary rate, so employees need to carefully review their benefit options before proceeding.
Long-term disability insurance (LTD) typically provides the employee with a 66% of salary benefit and in some cases continues the employee's healthcare benefit. It is often provided as part of the employment compensation package.
ADVERTISEMENT
SCROLL TO CONTINUE
Assuming the medical disability will persist, the employee will need to file paperwork confirming the fact that his or her job can no longer be performed. A different insurance carrier usually covers the employee under LTD.