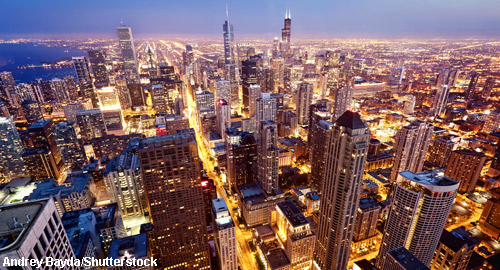 With more than 450 sessions, the 2018 ACR/ARHP Annual Meeting, Oct. 19–24 in Chicago, is your gateway to global rheumatology education. The meeting provides boundless opportunities for professional development, networking and firsthand access to the latest rheumatology research and clinical applications. Here is a preview of a few sessions attendees can look forward to.
You Might Also Like
Also By This Author
Pre-Meeting, Oct. 19 & 20
Arriving in Chicago early? Attendees of pre-meeting session will have the opportunity to grow their understanding of technology, research and musculoskeletal ultrasound.
ADVERTISEMENT
SCROLL TO CONTINUE
ACR Clinical Research Conference (CRC): Applications of Mobile Health Technologies
Friday, Oct. 19: 1–6 p.m.; Saturday, Oct. 20: 7 a.m.–4:15 p.m.
The 2018 ACR CRC will focus on mobile and digital technologies as applied to research, quality improvement and clinical care settings specific to rheumatology. Attendees will learn about the latest in mobile and smartphone technology, biosensors and other digital health advances. Sessions will highlight the capture of patient-reported outcome and biosensor data, the value of such data for rheumatologic practice and research, and much more.
ACR Basic Research Conference (BRC): Epigenetics in Immune-Mediated Disease
Friday, Oct. 19: 1–6 p.m.; Saturday, Oct. 20: 7 a.m.–4:25 p.m.
This conference will focus on how epigenetic mechanisms influence the immune function and how epigenetic dysregulation contributes to immune-mediated diseases relevant to rheumatology. A number of national and international experts will explore how epigenetics is regulated and how it influences gene expression in health and disease. Novel technologies and analysis methods will also be discussed. A number of selected abstracts, will be presented.
ADVERTISEMENT
SCROLL TO CONTINUE
ACR Musculoskeletal Ultrasound Course for Rheumatologists & ACR Musculoskeletal Ultrasound Course for Rheumatologists–Advanced
Friday, Oct. 19: 6:45 a.m.–5:30 p.m.; Saturday, Oct. 20: 6:30 a.m.–5:45 p.m.; Advanced—Saturday, Oct. 20: 7:15 a.m.–5:45 p.m.
For the first time, this year's pre-course for ultrasound in rheumatology will include a separate advanced track for those who have already become competent in the basics. Following the example set in Europe, the ultrasound leadership from the ACR plans to provide more sophisticated and informative lectures and hands-on sessions. RhMSUS-accomplished sonographers and others with enough experience will be eligible to attend this one-day course on Saturday.
The beginner ultrasound course will remain a two-day introductory curriculum of didactics and hands-on sessions taught by leading rheumatology sonographers from across the country. As before, this course will provide extensive examples of basic rheumatologic pathology seen on ultrasound while also teaching students basic scanning techniques and normal imaging patterns.
Other sessions include:
ADVERTISEMENT
SCROLL TO CONTINUE
ACR Practice Management: Putting the Pieces Together—Winning Strategies for Rheumatology Practices, Saturday, Oct. 20: 7 a.m.–4:15 p.m.; and
ACR Review Course: Perioperative Management of Rheumatic Disease Patients, Saturday, Oct. 20: 8:45–9:30 a.m.
Note: These sessions require additional fees to attend and can be added to your Annual Meeting registration. To find out what other pre-meeting sessions are offered this year, visit the ACR/ARHP Annual Meeting website.
Sunday, Oct. 21
Sessions begin at 7:45 a.m. on Sunday. Topics of the day include treat to target for rheumatoid arthritis, pediatric rheumatology, clinical trials, chronic musculoskeletal pain and much more.
From 2:30–4 p.m., attendees will have the opportunity to learn about the use of hydroxychloroquine (HCQ) for systemic lupus erythematosus (SLE) patients, during "The Great Debate: Guidelines for SLE: HCQ Dose Should Be No More Than 5 mg/kg in All Patients." Why attend the 2018 Great Debate? Multiple studies show that HCQ has many benefits in SLE, such as the prevention of disease flares and cardiovascular benefits. HCQ is the only drug shown to prolong survival in lupus. However, recent ophthalmology guidelines point to potential retinal risks of long-term HCQ use.
Many rheumatologists are confused by the guidelines, the screening tests and their interpretation. In this symposium/debate, attendees will increase their understanding of the benefits and risks of HCQ in SLE and the role of the recent guidelines.
Other sessions include:
Meet the Professor: Pulmonary Manifestations of Rheumatic Disease, 7:45–9:15 a.m.;
ACR: Sjögren's Syndrome: Beyond Dryness: A Comprehensive Approach to Diagnosis & Management, 12:30–2 p.m.; and
ACR/ARHP: Psychiatry for the Rheumatology Practice, 2:30–4 p.m.
Monday, Oct. 22
Monday includes the ARHP Daltroy Memorial Lecture: "What Matters in Patient-Provider Relationships? Values, Attitudes & Beliefs," from 7:30–8:30 a.m. This session addresses how history, life experiences and perspectives informed by race, culture, ethnicity and family of origin can play an important role in patient-provider relationships. Adena Batterman, LCSW, and Jillian Rose, LCSW, MPH, will discuss the importance of the clinician's own self-awareness and understanding of the patient's experience from a multicultural perspective. They will provide clinical tools and best practices to help providers work from this framework to uncover what matters most to the patient in an effort to optimize clinical outcomes.
Other sessions include:
ACR Clinicopathologic Conference: Under the Microscope: The Evolution of a Diagnosis, 7:30–8:30 a.m.;
ACR: AFLAR: Out of Africa: Of Rheumatic Diseases: Pattern, Genetics & Advocacy, 8:30–10 a.m.; and
ACR/ARHP: Get Smart: Mobile & Wearable Technology in Rheumatology, 9–10 a.m.
Tuesday, Oct 23
Throughout the Annual Meeting, attendees have the opportunity to register for and participate in workshops, which foster hands-on learning. On Tuesday morning from 7:45–9:45 a.m., attendees can participate in workshop designed to address physician burnout and the stresses associated with working in the healthcare system.
During "Mindfulness for the Physician: Techniques & Skills," participants will learn the basic constructs of mindfulness, research findings supporting mindfulness meditation for health and well-being, and practice several mindfulness meditation exercises. Methods and resources to apply mindfulness to daily life will also be presented and discussed.
Other sessions include:
ACR/ARHP: My Chromosomes & Me: Talk to Patients About Consumer Genetic Tests, 1–2 p.m.;
Study Group: Developing Support & Education Programs for People with Rheumatic Diseases, 1–2 p.m.; and
ARHP: The Aging Foot in Rheumatology, 4:30–6 p.m.
This year's ACR/ARHP Annual Meeting offers top-notch rheumatology education, as well as opportunities for networking, collaboration and professional development. For the latest program information and speaker bios, check out the 2018 ACR/ARHP Annual Meeting Online Program.

Stay Organized with the Annual Meeting App
This year's meeting offers more than 450 sessions. Attendees can keep track of the daily events by using the 2018 ACR/ARHP Annual Meeting App. With the app, users can easily access meeting sessions, abstracts, speaker bios and exhibitor information.
Available online and on iOS or Android devices, the app allows users to personalize their schedules, take notes, engage in social media interaction and more.
Registration Is Open
Don't miss out on the top-notch rheumatology education, networking and professional development that will be offered at the 2018 ACR/ARHP Annual Meeting, Oct. 19–24 in Chicago.