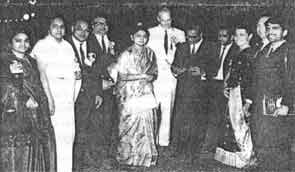 Attendees of the first conference of SEAPAL (now APLAR), held in 1968 in Mumbai (Bombay), India.
The Asia Pacific League of Associations for Rheumatology (APLAR) covers nearly four billion people. As the sun rises over Japan and New Zealand and brightens our 27 member countries, including those in Central and West Asia, it's time to celebrate our golden jubilee. The story began in 1961, when rheumatology was in its nascency. Two Australian physicians procured authority from the International League Against Rheumatism (ILAR) to initiate a regional professional society, the South East Asia and Pacific Area League (SEAPAL) akin to EULAR and PANLAR. SEAPAL was renamed as the Asian Pacific League Against Rheumatism in 1990.1
Drs. Ken Muirden (Australia), Richard Wigley (New Zealand), and John Darmawan (Indonesia) were prime movers in setting up rheumatology clinics in Indonesian villages. Their teams collated valuable data on patterns and prevalence of the burden of rheumatic diseases in these populations. Similarly, in my own humble way, I helped establish a network of free arthritis camps in impoverished Indian village settings. Each month I boarded a predawn train to travel to camp locations where I would examine and treat at least a hundred patients with the support of a team of young local doctors and paramedics. Over five years, 6,400 patients were examined and data about their diseases was processed in Mumbai in an era when laptops and mobile phones were fantasies. Interestingly, the findings suggested that the most common diagnosis was soft-tissue rheumatism (36%), followed by osteoarthritis (32%), rheumatoid arthritis (RA; 22%), gout (6%), lupus (4%), and juvenile inflammatory arthritis (2%).2 The antistreptolysin-O test (ASO) was frequently ordered, and since a slightly elevated result was considered to be specific for rheumatic fever, long-term penicillin injections may have been erroneously administered to thousands of children in the hope of preventing rheumatic heart disease. Whereas aspirin and nonsteroidal antiinflammatory drugs were used liberally, disease-modifying antirheumatic drugs (DMARDs) were used sparingly, if at all. Since packages of chloroquine tablets carried a picture of a mosquito, many doctors and patients thought it was irrational to prescribe antimalarials for RA. Methotrexate was feared as being a dangerous anticancer cytotoxic drug, which was rarely used. Thankfully, such apprehensions are rarely perceived today.
Educational Endeavors
Looking back, such humble endeavors helped establish rheumatology as a specialty in the Asian medical community. As APLAR president, I seized the golden opportunity to initiate and encourage rheumatology teaching through the creation of first-ever continuing medical education programs in Bangladesh, Sri Lanka, Pakistan, Myanmar, Muscat, and Dubai.