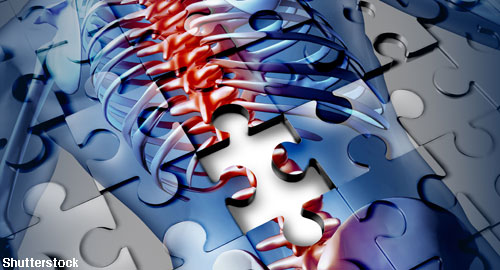 In any given year, between 15 and 64% of adults in developed countries suffer from low back pain. Moreover, work-related back pain is a major contributor to the cost of work-related illness in these countries. Nurses are particularly susceptible to work-related lower back pain, because they are frequently required to work in awkward postures, carry patients and stand for prolonged time periods.
Also By This Author
A healthy individual should have a neutral posture that balances multiple joints, bones and muscles along the longitudinal axis of the body. Movement then results in a measureable range of motion that can vary between individuals and is associated with pain. Example: People with low back pain tend to have more lumbar segment motion than pelvic motion during forward bending of the trunk than those without low back pain. Although this observation implies that back pain is a mechanical problem, the situation is actually more complex, and some clinicians characterize back pain as a "bio-psycho-socially induced disease." This is because non-specific low back pain can result not only from mechanical problems, but also from psychological and social factors. Specifically, indices of depression and somatization correlate strongly with the functional limitation that results from low back pain.
ADVERTISEMENT
SCROLL TO CONTINUE
Not surprisingly, companies market numerous ergonomic aids that are designed to prevent low back pain. Although many of these devices provide postural feedback, the few studies that have been conducted noted the inability of the devices to effectively balance portability with measurement accuracy. Investigators in Japan met this challenge by creating wearable lumbar support, called Spinal Underwear. They designed the underwear with Nanofront technology. It responds to poor posture by stimulating tactile sense on the skin of the back. The Japanese team tested the ability of the underwear to improve musculoskeletal symptoms, postural changes, psychological distress, sleep disturbance, somatosensory amplification and the range of motion of major joints.
Yoshihiro Hagiwara, MD, PhD, assistant professor in the Department of Upper Limb Organ at Tohoku University School of Medicine in Japan, and colleagues published the results of their randomized study online on Jan. 28 in the Journal of Occupational Health.¹ Although the study included healthcare workers, medical assistants and physical therapists, the majority (81%) of the participants were nurses. The investigators studied 54 participants in the experimental group and 53 participants in the control group. They confirmed that there was no significant difference between the two groups, including low back pain in healthcare workers, as measured by visual analog scale (VAS), immediately after randomization. The experimental group wore the underwear at all times except while bathing and sleeping. Unfortunately, the investigators did not have actual sham underwear, so they could not create a double-blind experiment.