Keith Sullivan, MD, Receives Lifetime Achievement Award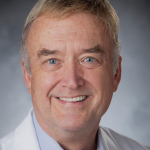 Mentorship, collaboration and a quest for cure shine through as major themes in the distinguished career of Keith M. Sullivan, MD, the James B. Wyngaarden Professor of Medicine, Duke University Medical Center, Durham, N.C. On Friday, Feb. 21, those themes dominated his acceptance speech when he received a Lifetime Achievement Award from the American Society for Transplantation and Cellular Therapy.
You Might Also Like
Explore This Issue
June 2020
Also By This Author
Dr. Sullivan was a co-founder and served as the second president of the society, originally called the American Society for Blood and Marrow Transplantation. His research career began at the University of Washington and the Fred Hutchinson Cancer Research Center in Seattle, where he enjoyed collaboration with some of the giants in marrow transplantation, including Rainer Storb, MD, and the late Nobel laureate E. Donnall (Don) Thomas, MD.
ADVERTISEMENT
SCROLL TO CONTINUE
Dr. Sullivan and co-authors published on the late complications of allogenic bone marrow transplantation (BMT) and chronic graft-versus-host disease, and he and Mark Walters, MD, conducted the first multicenter trial of BMT as a cure for severe sickle cell disease.
In the mid-1980s, two articles in PNAS (Proceedings of the National Academy of Sciences of the United States of America) sparked his interest in stem cell transplant for autoimmune disease. The late Robert A. Good, MD, PhD (the father of modern immunology), demonstrated that total body irradiation and allogenic BMT could prevent and even reverse organ damage in animals with inherited autoimmune diseases. In another preclinical paper in PNAS, the late Dirk van Bekkum, MD, used total body irradiation and autologous transplant to reverse antigen-induced autoimmune disease.
ADVERTISEMENT
SCROLL TO CONTINUE
Dr. Sullivan and his colleagues saw a role for autologous stem cell transplant in treating patients with severe autoimmune diseases. They convened a global panel of rheumatology and transplant experts and identified systemic sclerosis as the initial target for myelo­ablative autologous hematopoietic stem cell transplant. With funding from the National Institutes of Health (NIH), they conducted a pilot study that showed remarkable reversal of dermal fibrosis.
The subsequent trial, known as the SCOT (Scleroderma: Cyclophosphamide or Transplantation) study, confirmed superior outcomes with transplant in individuals with severe scleroderma. (Sullivan KM, Goldmuntz EA, Keyes-Elstein L, et al. Myeloablative autologous stem-cell transplantation for severe scleroderma. N Engl J Med. 2018;378[1]:35–47.)
Dr. Sullivan notes the quest for cure spans disciplines, centers and countries. That quest, he says, "has given me the opportunity and great pleasure of working with many innovators in rheumatology and transplantation. My hope is that these transdisciplinary collaborations and friendships will have a bi-directional benefit in our quest for cure."
ADVERTISEMENT
SCROLL TO CONTINUE
Just as he gained immense respect for the problem-solving abilities of his mentors—all with different personalities but working together and supporting one another—Dr. Sullivan has strived to nurture the next generation of medical scientists. For the past 18 years, he has organized the Outer Banks Research Skills Retreats, hosting more than 700 fellows from 12 southeast and mid-Atlantic universities. These three-day retreats are immersion courses designed to keep fellows and their families in academic medicine and foster the next generation of successful physician scientists.
"This next generation will exploit molecular and clinical discoveries to bring forward improved treatments for morbid and mortal disorders including severe autoimmune diseases," says Dr. Sullivan.