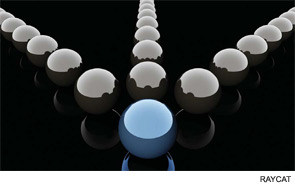 Meaningful Use encourages rheumatologists to align EHR use with patient career
Although reporting for Stage 1 of the Centers for Medicare and Medicaid Services (CMS) Electronic Health Record (EHR) Incentive Program began just this year, the rules, objectives, and measures for Stage 2 are already being established. Last June, the Office of the National Coordinator (ONC) for Health Information Technology (IT) presented CMS with its recommendations for Stage 2 of the CMS EHR Incentive Program which builds on the Stage 1 objectives supporting EHR utilization for data capture and sharing.
The CMS EHR Incentive Program offers incentive payments of up to $44,000 for eligible providers, including rheumatologists who successfully demonstrate meaningful use of their EHR system, meeting the program's measure thresholds for established objectives. Under the provisions of the Health Information Technology for Economic and Clinical Health Act (HITECH), CMS estimates that between $14.1 and $27.5 billion in funding will be distributed through the EHR Meaningful Use incentive program.
ADVERTISEMENT
SCROLL TO CONTINUE
This incentive program is meant to not only lend support for the acquisition of EHR systems, but also to ensure that systems purchased are capable of meeting the minimum requirements for secondary utilization and exchange of health information. As the name implies, the incentive program focuses on how EHR systems are used in practice, rather than simply providing incentives for their purchase. The requirements for the program are meant to encourage providers to use the system as more than simply an electronic medical chart; by letting go of "paper thinking," providers can begin to realize the potential for an electronically supported practice transformation leading to greater efficiency, improved quality, and effectively coordinated care.
As with Stage 1 objectives, the Stage 2 program should not be viewed as a list of unique items and thresholds to meet, but as building blocks to further drive advanced utilization of the EHR system for disease management, clinical decision support, medication management, support for patients' access to their health information, quality measurement and research, and bidirectional communication of health data (see Figure 1).
ADVERTISEMENT
SCROLL TO CONTINUE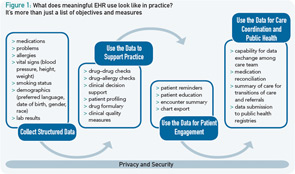 click for large version
Figure 1: What does meaningful EHR use look like in practice? It's more than just a list of objectives and measures
Potential Stage 2 Objectives and Measures
Many of the proposed objectives and measures for Stage 2 of the CMS EHR Incentive Program have been carried over from Stage 1 of the program, with some adjustments to the measurement thresholds and with the designation of "core" or required objective applied to those that were "menu" or optional in Stage 1 (see Table 1). For most, this will mean that your practice will simply need to evaluate practice workflows to ensure that the entire practice team has an understanding of who is responsible for the clinical and administrative actions and that these actions are being done in a way that is consistent with measurement in the EHR system.