Reference
Ehlers L, Askling J, Bijlsma HW, et al. 2018 EULAR recommendations for a core data set to support observational research and clinical care in giant cell arteritis. Ann Rheum Dis. 2019 Mar 21. pii: annrheumdis-2018-214755. doi: 10.1136/annrheumdis-2018-214755
Jinoos Yazdany, MD, MPH, Becomes Chief of UCSF Division of Rheumatology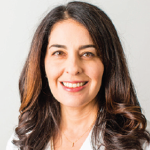 On July 1, Jinoos Yazdany, MD, MPH, assumed her new role as chief of the University of California, San Francisco Division of Rheumatology at Zuckerberg San Francisco General Hospital. Dr. Yazdany, who is a professor of medicine and the Robert L. Kroc Endowed Chair in Rheumatic and Connective Tissue Diseases at UCSF, adds this role to several other leadership positions. At UCSF, she co-directs the Rheumatology Quality and Informatics Lab, an interdisciplinary group that uses health services research, informatics and implementation science to inform national healthcare improvement initiatives. She will also continue as chair of the ACR's Registries and Health IT Committee.
You Might Also Like
Explore This Issue
September 2019
Also By This Author
Dr. Yazdany received her undergraduate degree from Stanford University, Palo Alto, Calif., attended medical school at the University of California, Los Angeles, and completed a Master's in Public Health at Harvard University.
ADVERTISEMENT
SCROLL TO CONTINUE
"I initially thought I would have a career in public health. I wanted to have an impact on a population level," she says. But then, she "fell in love with rheumatology." The intellectual challenges of the rheumatic diseases, the potential for longitudinal relationships with patients and a personal connection because of family members who have rheumatic diseases all contributed to that choice. She completed her internal medicine residency and fellowship at UCSF and joined the faculty in 2006.
Dr. Yazdany incorporated her interest in public health into her research, focusing on improving healthcare quality, safety and outcomes for patients with rheumatic diseases. She has developed quality measures endorsed by the National Quality Forum that are being used in federal programs. She also led the development of the ACR's Rheumatology Informatics System for Effectiveness (RISE), an electronic health record-enabled, HIPAA-compliant registry that aggregates and analyzes data from rheumatology practices around the country to inform quality improvement and research projects.
ADVERTISEMENT
SCROLL TO CONTINUE
"As rheumatologists, we're driven by our desire to make a meaningful impact on people's lives and to ensure that we can demonstrate the impact to our patients, the public, and, increasingly, to policy makers," Dr. Yazdany says. "We need to track and report those outcomes in a structured way and health information technology has a really important role in allowing us to do that.
"I love every aspect of what I do," she says. "And in many ways, the different aspects are very synergistic with each other."