Betty Diamond, MD, Recognized as Distinguished Fellow by American Association of Immunologists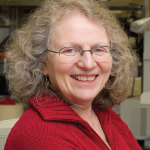 At its annual meeting in May in San Diego, the American Association of Immunologists (AAI) recognized Betty Diamond, MD, as a distinguished fellow. Dr. Diamond is professor and head of the Center for Autoimmune, Musculoskeletal and Hematopoietic Diseases at the Feinstein Institutes for Medical Research, Manhasset, N.Y. She is also professor of medicine and molecular medicine at the Donald and Barbara Zucker School of Medicine at Hofstra/Northwell, Hempstead, N.Y. In addition to being an active AAI member and once serving as president, she has also served on the ACR's board of directors.
Following her undergraduate studies in art history and classics at Radcliffe College, Dr. Diamond obtained her medical degree from Harvard Medical School, Boston. It was during her postdoctoral studies at the Albert Einstein College of Medicine, The Bronx, N.Y., that one of her mentors, Donald M. Marcus, MD, now professor emeritus at Baylor College of Medicine, Houston, steered her to rheumatology. "Come to rheumatology clinic on Wednesday mornings—you'll have fun, and there are interesting clinical problems," she recalls him saying.
ADVERTISEMENT
SCROLL TO CONTINUE
Autoimmune diseases, especially lupus, drew her to rheumatology. "I was amazed by lupus," she says, "because it represented to me the [cartoonist Walt Kelly's] character Pogo stating, 'we have met the enemy, and he is us.'" She was also drawn to the specialty because 90% of those diagnosed with lupus are younger women. Her goal was to delve into the cellular mechanisms of the disease.
Dr. Diamond's laboratory work currently focuses on DNA-reactive B cells, particularly the alterations that lead to their survival and activation. Her research continues to push known boundaries, including research into impaired cognition in lupus.
ADVERTISEMENT
SCROLL TO CONTINUE
Simpler Is Better
Dr. Diamond was encouraged by Dr. Marcus and another mentor, Matthew Scharff, MD, a professor at the Albert Einstein College of Medicine. She now directs the MD/PhD Program at Hofstra/Northwell, and it's a role she relishes. "Whenever someone who is smart and motivated comes to the lab and wants to study an aspect of lupus, I tell them to go for it," she says. "It means that I'm always running alongside, trying to learn new things, but they turn out to be very interesting."
The lab's studies on C1q in lupus and hormonal regulation of B cell maturation and differentiation are two examples of those fruitful pursuits.1
She is also motivated by a quest to find therapies that are less immunosuppressive and more affordable. "When a third of lupus patients are dying of infection, we don't need more immunosuppressive therapies," she says. Affordable, low-tech assays would also be a way to investigate the differences in disease based on race and ethnicity. "This is almost the opposite of how science functions, which is 'fancier is better,'" she says. "But to my mind, simpler is better."
ADVERTISEMENT
SCROLL TO CONTINUE
Reference
Son M, Porat A, He M, et al. C1q and HMGB1 reciprocally regulate human macrophage polarization. Blood. 2016 Nov 3;128(18):2218–2228.
Eric L. Matteson, MD, Now an Honorary Member of EULAR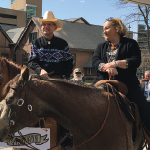 During its annual congress in June in Madrid, the European League Against Rheumatism (EULAR) appointed Eric L. Matteson, MD, professor emeritus of rheumatology at the Mayo Clinic in Rochester, Minn., an honorary member. It was fitting for Dr. Matteson to be included, as much of his work in rheumatology has involved international collaborations. "I've always considered medicine to be very international, and I've had the opportunity to work with a lot of people outside of the U.S.," he says.
While studying in Germany his junior year of college, Dr. Matteson met his future wife, Herta, who convinced him to apply to medical school there. He obtained his medical degree from Friedrich-Alexander University, Erlangen-Nürnberg, Germany. Following medical school, he and Herta moved to Michigan, where he pursued internal medicine and a rheumatology fellowship, and subsequently moved to Rochester to work at the Mayo Clinic. Dr. Matteson served as the chief of rheumatology at the Mayo Clinic from 2005–15. In that role, he researched the diagnosis and treatment of poly­myalgia rheumatica and giant cell arteritis, and the epidemiology and management of heart and lung disease in patients with RA.
Dr. Matteson has made it a point throughout his career to participate in joint projects, such as those between the ACR and EULAR on classification of disease activity, as well as disease management. "Rheumatology," he says, "is not a proprietary interest of a single country. Although different countries manage their healthcare delivery systems differently, the need for study of rheumatic diseases and their treatments, caring for patients and caring about patients are universal."
Dr. Matteson retired last year and did it in style. A colleague had recalled his remark that it would be fun to finish his working years by riding off into the sunset, in memory of an ancestor who had been part of the Buffalo Bill Cody Congress of Rough Riders. When his final day came, he and Herta rode a horse westward through Rochester.
Retirement does not describe his current level of activity, however. As an emeritus professor at Mayo, he is still involved in research projects and sits on mentoring committees. He is working, for example, to formulate an ACR/EULAR proposal to develop standards for defining disease activity in giant cell arteritis.1 He also consults with pharmaceutical companies on novel compounds.
"I'm keeping quite busy, actually, in rheumatology, as well as pursuing my hobbies and other interests," he says.
Reference
Ehlers L, Askling J, Bijlsma HW, et al. 2018 EULAR recommendations for a core data set to support observational research and clinical care in giant cell arteritis. Ann Rheum Dis. 2019 Mar 21. pii: annrheumdis-2018-214755. doi: 10.1136/annrheumdis-2018-214755
Jinoos Yazdany, MD, MPH, Becomes Chief of UCSF Division of Rheumatology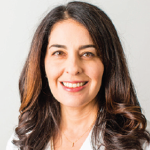 On July 1, Jinoos Yazdany, MD, MPH, assumed her new role as chief of the University of California, San Francisco Division of Rheumatology at Zuckerberg San Francisco General Hospital. Dr. Yazdany, who is a professor of medicine and the Robert L. Kroc Endowed Chair in Rheumatic and Connective Tissue Diseases at UCSF, adds this role to several other leadership positions. At UCSF, she co-directs the Rheumatology Quality and Informatics Lab, an interdisciplinary group that uses health services research, informatics and implementation science to inform national healthcare improvement initiatives. She will also continue as chair of the ACR's Registries and Health IT Committee.
Dr. Yazdany received her undergraduate degree from Stanford University, Palo Alto, Calif., attended medical school at the University of California, Los Angeles, and completed a Master's in Public Health at Harvard University.
"I initially thought I would have a career in public health. I wanted to have an impact on a population level," she says. But then, she "fell in love with rheumatology." The intellectual challenges of the rheumatic diseases, the potential for longitudinal relationships with patients and a personal connection because of family members who have rheumatic diseases all contributed to that choice. She completed her internal medicine residency and fellowship at UCSF and joined the faculty in 2006.
Dr. Yazdany incorporated her interest in public health into her research, focusing on improving healthcare quality, safety and outcomes for patients with rheumatic diseases. She has developed quality measures endorsed by the National Quality Forum that are being used in federal programs. She also led the development of the ACR's Rheumatology Informatics System for Effectiveness (RISE), an electronic health record-enabled, HIPAA-compliant registry that aggregates and analyzes data from rheumatology practices around the country to inform quality improvement and research projects.
"As rheumatologists, we're driven by our desire to make a meaningful impact on people's lives and to ensure that we can demonstrate the impact to our patients, the public, and, increasingly, to policy makers," Dr. Yazdany says. "We need to track and report those outcomes in a structured way and health information technology has a really important role in allowing us to do that.
"I love every aspect of what I do," she says. "And in many ways, the different aspects are very synergistic with each other."
---
Gretchen Henkel is a health and medical journalist based in California.