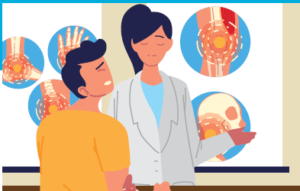 As the number of women practicing in rheumatology grows, so too does the need to better address persisting issues of gender inequity. By 2025, it is predicted that women will comprise the majority of the rheumatology workforce.1 Yet women who pursue an academic career are still less likely than men to be promoted, be first authors of peer-reviewed publications or receive research grants.2
You Might Also Like
Explore This Issue
October 2021
Also By This Author
In 2014, four rheumatologists formed the Association of Women in Rheumatology (AWIR) to help advance women within the field. Co-founder and current AWIR president Grace C. Wright, MD, underscores that the Association aims to foster equity for women in leadership and compensation, as well as to promote the science and practice of rheumatology through education and advocacy for all providers. The AWIR now has local chapters across the U.S. as well as a presence in 22 countries.
The AWIR recently held its annual conference, with sessions covering a mix of clinical and professional topics, such as scientific research updates, ways to better address patient concerns, financial planning and legal issues. A major theme of the meeting is to address these issues within the contexts of gender equity and health disparities—two core principles of the AWIR, according to Dr. Wright.
"We can teach science in abstraction and practice medicine in a purist framework, or we can start to talk about the areas that need corrections and where we can do better," she says. "To do that, we need to look at our science and our delivery of care through the optics of disparities, equity and the impact on our patients."
ADVERTISEMENT
SCROLL TO CONTINUE
Disproportionate Burdens
During the 2021 AWIR annual conference, held Aug. 12–15, a half-day session was devoted to global perspectives on COVID-19, during which rheumatologists from around the world (Australia, Brazil, Canada, the Caribbean, India and the U.S.) described the impact of the pandemic on their cities and countries. The discussions highlighted the extreme health disparities that exist between countries due to available resources, as well as how COVID-19 has exposed and exacerbated the disproportionate load that women providers carry.
"We heard the same stories but with a different flavor because of cultural overtones," says Dr. Wright. "Women in general carry the greater burden as providers because they have to deal with both the communal and professional aspects of their lives."
For Stephanie Ott, MD, AWIR's co-chair of advocacy, helping women rheumatologists learn about wellness and life-work balance is key to AWIR's goal of ensuring that all members, regardless of gender, have the right skills to be leaders. The persistent challenges female rheumatologists face in balancing their professional and personal lives can also lead to inequities in compensation due to caring and billing for fewer patients.
ADVERTISEMENT
SCROLL TO CONTINUE
Women face different challenges than men, notes Dr. Ott. "Many women are mothers and wives trying to function as physicians, and no one teaches us how to do that," she says.
Practical Advice
Other sessions during the annual meeting helped members better navigate the practical side of their careers, such as financial planning. Gwenesta Melton, MD, AWIR's vice president and co-chair of advocacy, highlighted a new session offered this year on finances to help all providers, from those just completing a fellowship to those in the later years of their careers, understand appropriate wealth growth strategies. "This session was very popular with everyone," she says. "We really don't get enough about financial planning in medical school or residency."
The meeting also provided sessions on practice development, including how to negotiate contracts that are geared toward providers and not just practice managers. Dr. Melton pointed to a session this year that framed this discussion in the context of the pandemic, describing what litigation related to COVID-19 may look like. "This was very helpful in helping us think about how to negotiate some things we might see coming forth with the pandemic," she says.
Describing the meeting as the intersection of rheumatology, education, advocacy and empowerment, Joseph Cantrell, JD, the ACR's senior manager of state affairs, emphasized how vital the AWIR's mission is to the full rheumatology community. "I cannot help but come away from the meeting feeling energized for the work ahead and excited about the future of rheumatology," he says.
Lennie McDaniel, the ACR's director of congressional affairs, also described the meeting as "super energetic" and lauded the AWIR's commitment to advocacy. "It was great to spend time with AWIR's advocacy consultants, and it was clear that they intersected with most of the ACR's priorities while also highlighting policies related to women in the workforce," she says.
---
Mary Beth Nierengarten is a freelance medical journalist based in Minneapolis.
References
Battafarano DF, Ditmyer M, Bolster MB, et al. 2015 American College of Rheumatology Workforce Study: Supply and Demand Projections of Adult Rheumatology Workforce, 2015–2030. Arthritis Care Res (Hoboken). 2018 Apr;70(4):617–626.
Jorge A, Bolster M, Blumenthal DM, et al. The Association Between Physician Gender and Career Advancement Among Academic Rheumatologists in the United States. Arthritis Rheumatol. 2021 Jan;73(1):168–172.