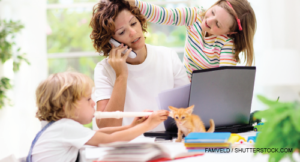 The COVID-19 pandemic changed pretty much every facet of human activity, from home life to social interactions to the workplace. Medicine and research kept up a dizzying pace throughout the pandemic, with physicians and researchers working clinic hours even if they were able to use telemedicine to do some of their work from home.
You Might Also Like
Explore This Issue
September 2021
Also By This Author
For physician parents, home responsibilities increased exponentially as schools went virtual, nannies stayed home and childcare centers shut down. This left parents to not only monitor their children's needs 24/7, but to try to do that while also being productive at work.
ADVERTISEMENT
SCROLL TO CONTINUE
"We live in this house of cards that is very fragile to begin with, and COVID was just a wrecking ball," says Irene Blanco, MD, MS, associate professor of medicine, associate dean of diversity enhancement, and rheumatology fellowship program director at Albert Einstein College of Medicine, the Bronx, N.Y. "Whatever fragile support system you may have created was going to take a massive hit."
Certainly, both men and women were affected by the chaos of COVID-19, but studies are showing that the burden of the pandemic disproportionately affected women—and even more disproportionately affected women of color. To address disparities in academic rheumatology, it's time to do away with some of the sacred cows that define "success" and get everyone on an equal footing in the workplace.
ADVERTISEMENT
SCROLL TO CONTINUE
Pandemic Effects
Gender and racial disparities exist in all sorts of workplaces, including academia and medicine, and the pressures of the pandemic stressed those disparities and widened the gaps.
"In our normal everyday lives, women don't get published as much as men, women don't get their grants as often as men do. Career advancement is slower for women. There are fewer women in positions of power," says Ashira Blazer, MD, MSCI, assistant professor of medicine, Division of Rheumatology, NYU Langone Health. "I think we've decided that's normal, and we tolerate it. But it's not normal. It's institutionalized sexism, and now we have a stressor and it's even louder. It's so glaring, you can't look away."
Looking at employment numbers alone, women account for the majority of pandemic-related job losses. Between February and December 2020, women lost more than 5.4 million net jobs and accounted for 55% of overall net job loss.1 This exodus from the workforce, even if it's temporary, affects not only current income but future income, retirement benefits and promotions. Taken together, the U.S. women who stopped working in 2020 could lose $885 billion in two years, and this phenomenon could widen the gender wage gap for at least 20 more years.2
ADVERTISEMENT
SCROLL TO CONTINUE
Women scientists are also facing slowing of their income potential and career progression because some of the main determinants of success—publishing papers and getting grants—were decreased among women during the pandemic. According to an article in The New York Times, "women have published fewer papers, led fewer clinical trials and received less recognition for their expertise during the pandemic [than prepandemic]."3
The pandemic didn't cause this issue, because women already published less and received fewer grants than men before COVID-19.4,5 In academic rheumatology, disparities in promotions existed prepandemic, too, with women being less likely to be listed as senior authors on papers or to be promoted to full or associate professors.6,7