Table stakes.
Explore This Issue
May 2019
Also By This Author
It took me a moment to register what they were talking about.
ADVERTISEMENT
SCROLL TO CONTINUE
I was listening to Pod Save America, a wildly popular podcast put together by some of Barack Obama's former speechwriters. It is, I imagine, what an MSNBC podcast might sound like if Rachel Maddow and Chris Hayes were allowed to swear. Liberally. The hosts have taken it upon themselves to interview each of the many candidates who have decided to run for the office of president of the United States in 2020.
Admittedly, I wasn't listening all that carefully. There is so much righteous anger on both sides of the aisle, it's hard to take it all in. So when listening to pundits, I try to surf just at the surface, before the wave breaks, trying to avoid the undertow.
ADVERTISEMENT
SCROLL TO CONTINUE
But there was that phrase again: table stakes.
As I started to concentrate, and the words came into focus, I finally pieced together the parts of the conversation I had missed.
They were talking about Medicare for all.
ADVERTISEMENT
SCROLL TO CONTINUE
Table stakes is actually a gambling term. In movies, we have all seen poker games depicted in which a femme fatale casually lays her diamond bracelet on the table, so the hero can win the hand. In practice, that doesn't happen. Table stakes is the rule that a gambler can gamble only with the money he put on the table at the beginning of the game. It's just not practical to play poker with someone who could match any bet by writing checks or pulling out a pink slip. In the Wild West, this rule also prevented players from trying to play with worthless I.O.U.s. If you wanted to play, you had to put your stake on the table to show you were serious. By extension, the table stake is the minimum you need to get into the game.
For Democratic hopefuls, signing on to Medicare for all is the table stake: It's a central part of the 2020 catechism, the minimum Democratic candidates have to commit to for their candidacy to be taken seriously by party faithful.
It's interesting to see a proposal that, just a few years ago, was branded as radical and extreme is now seen as mainstream. On Feb. 27, 2019, Rep. Pramila Jayapal introduced the latest iteration of a Medicare for all plan to the floor of the House of Representatives.1 It had 106 co-sponsors. In the Senate, Senators Kamala Harris, Cory Booker and Elizabeth Warren have all supported Bernie Sanders' single-payer bill, which is a kissing cousin to the Medicare for all plans discussed in the House.
How did we get from there to here?
Medicare for Some
"Whereas most Western democracies had adopted some form of national healthcare program, the United States relied on a private system that revolved, as the sociologist Paul Starr had recounted, around a sacred understanding of the doctor-patient relationship. When liberals talked about giving the government a bigger role in healthcare, stakeholders in the existing system always fought back protecting their authority and autonomy by warning that Washington would sever the ties between doctors and their patients."2
That was in the 1940s.
In the 1950s, the American Medical Association (AMA) financed a full-throated campaign to oppose President Harry Truman's proposal for national healthcare insurance. The AMA averred that socialized medicine would threaten the clinical—and perhaps more importantly, the economic—independence of physicians. The AMA quickly branded the effort un-American, and the legislation died in committee.
Commerce abhors a vacuum, and into the void went commercial insurance companies, supported by employers and egged along by favorable laws. The turning point was World War II. The war effort led to an increased demand for goods, which, in turn, led to low levels of unemployment. Pure capitalism would generally dictate that salaries would rise as a result. To prevent prices from spiraling out of control, however, the federal government imposed limits on both wages and prices.
Leave it to American ingenuity to discover a workaround: If companies could not raise wages, they would provide fringe benefits. Benefits, such as sick leave and health insurance, were not wages, and were therefore not subject to wage controls. And thus, a patchwork of private insurance became cemented into the American healthcare system.
This system, of course, neglected to address the elderly, who were simultaneously more likely to require healthcare services and less likely to be able to obtain the commercial insurance necessary to pay for those services. Medicare was created with the hope that, in the words of President Lyndon Johnson, "Older Americans would no longer be denied the healing miracle of modern medicine."
The AMA was still not convinced. They declared Medicare was "at least nine parts evil to one part sincerity" and was "the beginning of the end of the private practice of medicine."3
Despite this, Medicare became wildly popular. It now represents 20% of all national healthcare expenditures and 14% of the federal budget.4 It is difficult to find anyone whose life is not touched by Medicare, either personally or professionally.
In the 50 years since Medicare was enacted, it has transformed from heresy to gospel. But it was intended to be much more: Reformers picked the elderly as a sympathetic beneficiary of a bold new entitlement. With time, it was expected that Medicare would gradually expand to cover all Americans.5 Unfortunately, changing political winds made such expansion unpalatable. The momentum behind healthcare reform faded, and Medicare's mandate has remained largely unchanged to the present time.
The race to put a man on the moon seemed like the perfect analogy [Medicare for all as] a challenge that we took on as a nation, despite the prohibitive cost. But … we're not talking about a moonshot. We're talking about a shot to Jupiter.
Medicare for All
The phrase Medicare for all is like the phrases carbon footprint and deep fried—you probably have a visceral response to the phrase even before you know what we are talking about. In fact, a survey from the Kaiser Family Foundation found that 62% of Americans have a positive reaction to the phrase Medicare for all. Interestingly, when you swap in the phrase single-payer health insurance system, support drops to 48%.6
The difference in support for these two concepts exists because Medicare for all means different things to different people. To wit, the 116th Congress is considering eight separate proposals, all of which fall under the rubric of Medicare for all.
The proposals basically fall into two categories:
Medicare expansion: 47% of Americans receive insurance through their employers, through one of 858 private healthcare insurers. Also known as single payer, Medicare expansion would eventually guarantee that all Americans would receive healthcare.
Medicare buy-in: These so-called public option plans would not guarantee healthcare to all Americans, but they would allow some fraction of the 47% to purchase Medicare coverage.
The former is a frontal assault; the latter is a sneak attack. The idea behind the Medicare Buy-In (and with the public option proposed by proponents of the Affordable Care Act [ACA]), is that as soon as some Americans are allowed to purchase Medicare coverage for themselves, others will clamor for the same right. The battle over the ACA has breathed new life into both proposal categories.
No wonder. It's late in the game, and the stakes are high: 23 million Americans receive health insurance because of changes mandated by the ACA, either through the health insurance marketplace or the expansion of Medicaid. Despite this, approximately half of the people in the U.S. report spending less on food, clothing and other necessities to pay their medical bills.7 Worse still, last year, Americans borrowed $88 billion to pay for healthcare.8 Medical costs are an enormous burden for many Americans, and making Medicare accessible to a larger cross-section of the country would go a long way toward making that burden more bearable.
The problem, of course, is cost.
Charles Blahous, former deputy director of President Bush's National Economic Council and now a senior research strategist at George Mason University's Mercatus Center, believes Sen. Bernie Sanders' Medicare for All Act would cost $32.6 trillion for the first 10 years after full implementation. At least.9
Medicare & the Moon
In my first conception of this column, I wanted to compare this to the moonshot. On Sept. 12, 1962, at Rice Stadium in Houston, President John F. Kennedy announced, "We choose to go to the moon in this decade and do the other things, not because they are easy, but because they are hard; because the goal will serve to organize and measure the best of our energies and skills, because that challenge is one that we are willing to accept, one we are unwilling to postpone, and one we intend to win."10
The race to put a man on the moon seemed like the perfect analogy for a challenge we took on as a nation, despite the prohibitive cost. But the cost for the Mercury, Gemini and Apollo programs was $25 billion.11 In modern currency, that's a mere $110 billion—or 300 times less than the cost of Medicare for all estimated by Blahous. We're not talking about a moonshot. We're talking about a shot to Jupiter.
It comes back down to table stakes. Are we willing to put $32 trillion on the table? And do we even need $32 trillion? Part of the problem is that we don't really know how much money may be saved by eliminating administrative waste. Some estimate the cost savings may approach $500 billion annually.
The cost will likely vary wildly by specifics of the plan itself. The devil will be in the details, with some proposals promising full drug coverage with no out-of-pocket costs for doctors' visits and others being more circumspect about costs.
The benefits of Medicare for all may extend beyond dollars and cents. Imagine a world in which you don't have to guess what magic words you need to include in your documentation to obtain a biologic for your patient, because you're only dealing with one insurer. Imagine a world in which pre-existing conditions don't matter, simply because the government said they don't matter. We may not end up liking all the rules, but at least there would be rules.
It's true that Medicare for all may mean reduced salaries for physicians, but we would not be the hardest hit; those who supervise the delivery of healthcare, such as insurance company executives, typically earn much more than those who actually deliver that healthcare. Such administrators will likely be among the biggest losers in a single-payer world, as would the insurance companies themselves, the pharmaceutical industry and pharmacy benefit managers, all of which benefit disproportionately from the disjointed delivery that characterizes U.S. healthcare.
Despite its inherent complexities, Medicare for all has become the political table stake because we have all come to tacitly realize that healthcare access is not solely a monetary question. I doubt that any of us think of healthcare as a privilege that should be restricted to those who can afford it. For example, I don't think any of us are comfortable with a patient skipping a few meals to see us for his rheumatoid arthritis. And I think all of us squirm at the thought of a child being unable to concentrate in class because she can't afford an inhaler, or the thought of a patient being housebound because he can't afford to have his hip replaced.
We may be afraid to create a new entitlement, but in truth, that entitlement already exists. We are already deep in the game, and it's too late to fold.
---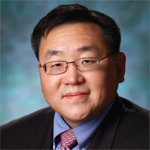 Philip Seo, MD, MHS, is an associate professor of medicine at the Johns Hopkins University School of Medicine, Baltimore. He is director of both the Johns Hopkins Vasculitis Center and the Johns Hopkins Rheumatology Fellowship Program.
References
Kliff S. Medicare-for-all: Rep. Pramila Jayapal's new bill, explained. Vox. 2019 Feb 26.
Zelizer JE. How Medicare was made. The New Yorker. 2015 Feb 15.
Organization section: Highlights of A.M.A. clinical session. JAMA. 1957;165(16):2090–2092.
The facts on Medicare spending and financing. Kaiser Family Foundation. 2014 Jul.
Ball RM. What Medicare's architects had in mind. Health Affairs. 1995;14(4):62–72.
Kaiser Family Foundation. Compare Medicare-for-all and public plan proposals. (n.d.).
The nation's pulse: The Texas Medical Center's 2018 consumer survey. Texas Medical Center Health Policy.
Zraick K. Americans borrowed $88 billion to pay for health care last year, survey finds. The New York Times. 2019 Apr 2.
Blahous C. The costs of a national single-payer healthcare system. Mercatus Center at George Mason University.
John F. Kennedy Moon Speech—Rice Stadium. NASA. 1962 Sep 12.
Fowler W. On the moon short anniversary: Nasa proves it is worth the cost. Fort Worth Star-Telegram. 2014 Jul 12.